---
Features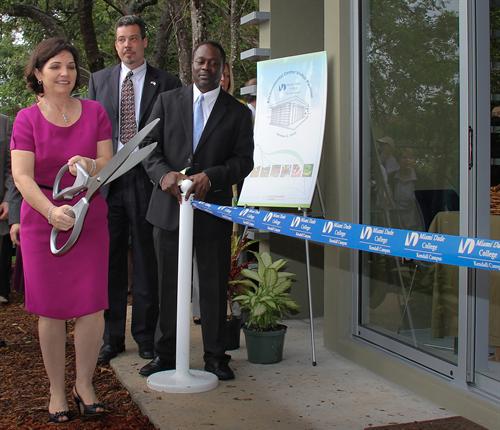 A Model for Green Technologies
Building on its strong commitment to sustainability practices, the College's Kendall Campus celebrated the grand opening of a new eco-friendly Visitor Pavilion at its impressive Environmental Center.
This new state-of-the-art facility is completely "off the grid" – utilizing solar panels, rainwater collection and other features that make it a showcase for the more than 10,000 visitors who come to the beautiful 9-acre property in Kendall each year. In addition to learning about the flora and fauna located at the Center, visitors now have a wonderful meeting place where they can learn about the technology and techniques that reduce carbon footprints and help preserve the environment for future generations.
Experiencing the Great Outdoors
"Despite the county's location between two national parks, our students and many residents often have little to no experience exploring the wonders of the outdoors and, as a result, have a limited understanding of the beauty and significance of natural ecosystems or the important environmental issues facing our community today," said Kendall Campus President Dr. Lourdes Oroza. "The College is committed to the vital role it plays in educating MDC students and the community on sustainable development and environmental conservation."
The multiuse facility, subsidized primarily by federal funding from the U.S. Department of Housing and Urban Development (HUD), also was created to LEED Platinum standards, making it one of very few school buildings in Florida designed for this standard. Designed by Hamed Rodriguez Architects Inc., the building also received substantial in-kind support from Coastal Construction Group.
A Rich Oasis
Established in the late 1970s by a group of visionary environmentalists and members of the College faculty, the Environmental Center at Kendall Campus is often described as an oasis in the midst of one of the most densely populated areas of Miami-Dade County. The expansive nature preserve, which also features a 3-acre lake, is home to more than 300 species of tropical trees and plants, 70 species of birds and more than 30 types of butterflies – several classified as endangered. About 7,000 children visit the Center each year to take part in science and nature field trips, summer day camps, native cultural experiences and more.
— AMS
More Features Articles