---
Making Their Mark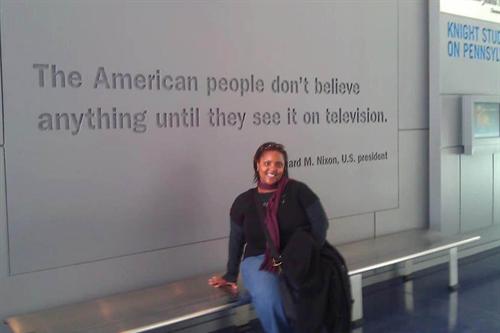 Meaning the World to Those She Serves
Excelling in college requires hard work, perseverance and wise time management, particularly for undergraduate students balancing multiple commitments in their lives. But Rolanda Roxana Schand is no ordinary college student. Her journey to success is proof that some outstanding individuals really can do it all.
As a full-time MDC student, the mother of a 3-year-old child with special needs and Student Government Association president at Homestead Campus, she not only expertly juggles many roles but also serves as a model for others. This is especially true now that she has been nominated for the National Council of Young Leaders by Opportunity
Nation, an organization that promotes opportunity, social mobility and greater access to the American dream.
To top off this major accomplishment, only 12 people in the country were selected for this prestigious two-year post.
One of Schand's main responsibilities as a council member will be to develop a strategic plan for presenting to U.S. policymakers.
Remarkable Transformation
Although she is now the poster child of achievement, Schand didn't always have concrete academic or career goals, nor did she know that politics would become an important part of her life.
In September 2009, she was homeless and decided to change the route that her life was taking. She enrolled in classes at MDC and started getting involved in service learning. Through steadfast determination, she found a way to keep up with her son's busy therapy schedule and her many college activities, which is all the more impressive since she did not then have a car.
Despite the demands on her personal schedule, Schand enjoys helping others.
"I have always envisioned myself making a difference in the world," she said. "My son is what pushes me forward."
After completing an impressive 500 hours of community service, Schand became a proud recipient of the Presidential Volunteer Service Award.
Helping Others Excel
She also works part time for America Reads, an initiative that helps children read well and independently by the time they have completed third grade.
While Schand knows that the enjoyment she gets from delving into politics isn't for everyone, she is convinced service learning is.
Living by a quote she firmly embraces, she said, "To the world you may be one person, but to one person you may be the world."
— SR
More Making Their Mark Articles