---
Academics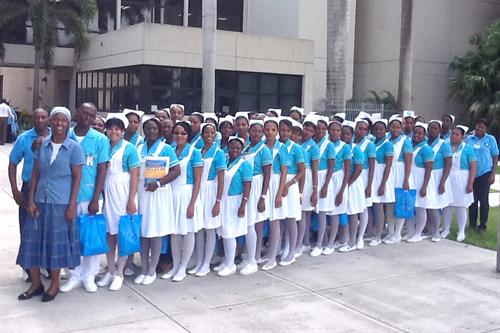 Enhancing Health Care Around the Globe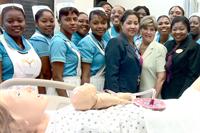 The state-of-the-art birthing simulator at MDC's Medical Campus provided insightful lessons to students from the Université Notre Dame d'Haïti in Port-au-Prince who recently visited Miami Dade College and met with faculty and staff, including nursing faculty member Yolanda Nitti, consultant Dr. Patricia Messmer and Professor Dr. Marie Etienne.
Miami Dade College's Medical Campus recently gave dozens of nursing students from Haiti a wide-ranging look at the U.S. health care system that will help them provide exceptional nursing care for others back home.
This fourth annual visit to MDC by students from the Université Notre Dame d'Haïti in Port-au-Prince was a collaborative effort organized by 
Jackson Health System, the Haitian American Nurses Association of Florida (HANA) and Good Samaritan for a Better Life, a nonprofit organization based in Florida.
Simulators Offer Insights
The 51 students participating in the recent exchange spent time at each of Jackson's three campuses and at MDC's state-of-the-art facilities, which include nursing labs and human patient simulators – computer-driven mannequins that can be programmed to demonstrate symptoms of real patients. The simulators showed different medical conditions as well as the process of giving birth.
"They know that MDC is internationally recognized as one of the best colleges in the U.S. They see how we prepare our students for the real world and learn about the advanced technology that nurses work with," said Dr. Marie Etienne, professor of nursing at MDC and chair of public relations and past president of HANA.
"They enjoyed the experience, and they also had an opportunity to network with our own nursing students," Etienne said. In addition, they received a certificate of completion from MDC.
A Generous Gift
The visit was enhanced by a gift of medical simulators from HANA.
"Not only is HANA bringing students here, but one of the objectives of HANA's current president Nahomie Mirville also is making sure nursing students have the proper equipment to function in Haiti using technology to enhance quality care and patients' outcomes," Etienne said. "It's a win-win situation for the university and our school. They can go back to Haiti and apply what they've learned."
— Staff Report
More Academics Articles