---
Academics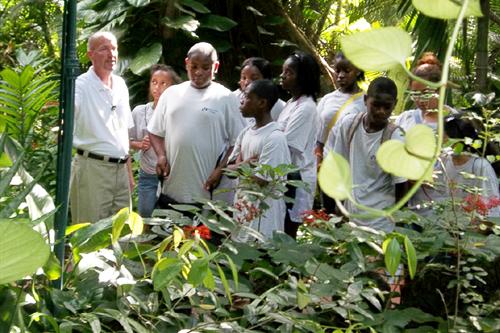 Gearing Up for College
"College is possible." That's the message Miami Dade College will be sharing with nearly 2,000 students and their families at six different middle schools thanks to a new seven-year, $5.6 million federal grant called GEAR UP (Gaining Early Awareness and Readiness for Undergraduate Programs). After a rigorous review process, MDC was the only Florida recipient during this award cycle.
Implementing a cohort model, where each school works with a specific group of students, the grant aims to significantly increase college readiness for low-income students and their families. With a two-layered approach, GEAR UP combines federal funding with local partnerships committed to improving the lives of students and their families far beyond earning a college diploma. "These students are low-income, primarily first-generation students. They may not have the resources at home to help them navigate the college system," said Tom Albano, executive director of MDC's College Readiness Institute. "We want to make sure all of our students are college-ready and that they, as well as their parents, receive the resources necessary to make the college transition."
At Arthur & Polly Mays Conservatory of the Arts, Beatriz Oria, the school's college success coach, helped implement a six-week intensive Summer Academy where middle school students participated in math, science, language arts, college, career and financial literacy workshops taught by MDC professors and tutored by students from MDC's Kendall Campus. Most important, the Academy took the middle schoolers and their parents on a college tour designed to transform the mind-set many of them had that college is out of their reach.
"It's extremely important to offer early college exposure to students and their parents. When the parents visit the campus, see the laboratories and observe their children receiving academic instruction from college professors, we begin to change the idea that college is an abstract concept," said Oria. "By making college a concrete reality, it changes the college culture from impossible to possible."
MDC will continue working with the students at Mays, José de Diego, Shenandoah, John F. Kennedy and Thomas Jefferson middle schools, using data obtained from recent endeavors like the Summer Academy to help make future programs more effective. Looking forward, Albano said, "It's going to be interesting to track their progress in the next six years."
— JG
More Academics Articles