---
Academics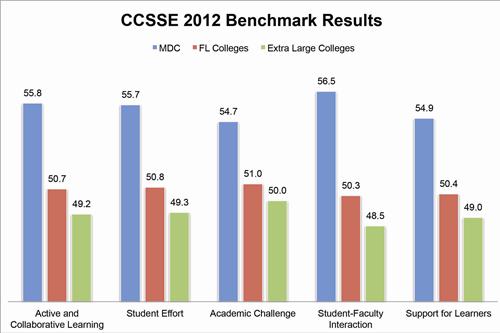 Chart Topper
As the largest institution of higher learning in the nation, Miami Dade College continues to set the bar for academic success, earning leading scores in a national survey measuring how much students are engaged in learning.
MDC scored better on all key benchmarks than overall scores for Florida colleges and extra-large colleges in the esteemed Community College Survey of Student Engagement (CCSSE), which samples thousands of students from more than 700 colleges around the country. MDC also placed among the top 10 percent of colleges in four of the five categories, which include active and collaborative learning, student effort, academic challenge, student-faculty interaction and support for learners.
"We are proud that MDC outperformed all comparison groups on these important benchmarks," said MDC Provost Dr. Rolando Montoya. "It shows us we are accomplishing our mission to provide high-quality teaching and learning experiences for our students."
The College's strongest performance is reflected in student-faculty interaction, which showed that students and faculty are using technology – specifically email communication – to engage in more frequent interactions. MDC students also are more likely than students at other Florida col-leges and extra-large colleges participating in the survey to discuss ideas from their readings or classes with instructors outside of class, talk with an instructor or advisor about career plans and work with instructors on activities outside the classroom.
When compared to the 2007 CCSSE survey, the 2012 results also show MDC students have increased the effort put into coursework, especially in the areas of developing and refining written assignments. They are coming to class more prepared and also are taking greater advantage of MDC resources such as tutoring and computer and skills labs.
Other survey areas where Miami Dade College excelled include:
Creating an environment that promotes diversity and cross-cultural interaction
Frequency of students using academic advising and career counseling services
Providing the financial support needed for students to afford their education
Encouraging students to work harder than they thought possible
Student participation in community projects
"Even though the results confirm that MDC is providing an exceptional learning environment, we are always striving for improvements that will enhance student achievement," Montoya said. "So our task now becomes examining those areas where we could do better, and finding ways to pro-vide student resources or implement ideas that will accomplish that."
— AMS
More Academics Articles