---
Cultural Spotlight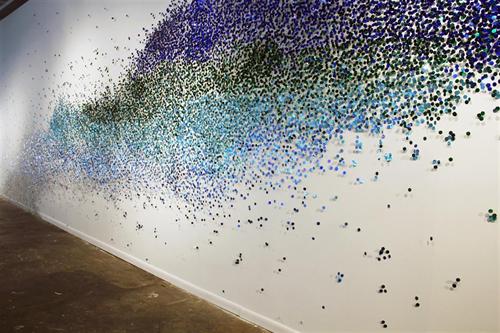 Fair Play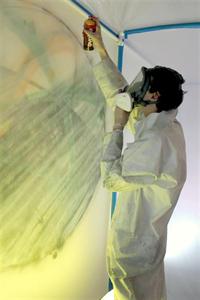 NWSA student Jeff Noble prepares his piece '7 (dimensions)' at the Artseen gallery space.
When the world came to town recently for the annual art fair frenzy that takes hold of Miami every December, MDC's New World School of the Arts (NWSA) stood front and center to welcome the attention of international art lovers in three prime exhibition spaces.
NWSA's presence was in full force in Miami's Wynwood Arts District, exhibiting at The Yard @ Casa Lin, a must-see venue listed on the official Art Basel Miami Beach calendar; the New Art Dealer's Association (NADA) art fair; and at Artseen, NWSA's own dedicated gallery in the heart of Wynwood.
Defining Spaces
Walls were the name of the game at Artseen this year. Chosen by a panel of professors after submitting thorough proposals, six students from NWSA – Kayla Delacerda, Junli Kato, Sebastian Duncan-Portuondo, Rafael Domenech, Stefanie López, and Jeff Noble – each occupied a wall within the gallery with their own remarkable art installations.
"I wanted the students to conceptualize a subject meaningful to them," said Maggy Cuesta, NWSA dean of visual arts. "What resulted were works that reflected issues that resonate in some passionate way with each one of them."
Yard Work
As they have done for the past five years, NWSA students, faculty and alumni dominated once again the grounds of Casa Lin, an actual house owned by collector and philanthropist Lin Lougheed, which morphs into an exhibition space for site-specific works.
Adorning the yard this year with works that playfully blended into the landscape was a mix of established and emerging artists, including Carol K. Brown, Delacerda, Domenech, Herman Felipe Kaizedo, Donald Lamber, Natalya Laskis, Joshua Levine, Michael Loveland, Eddie Negron, Francisca Pisfil, Colin Sherrell and Jovan Villalba.

More Cultural Spotlight Articles