---
Academics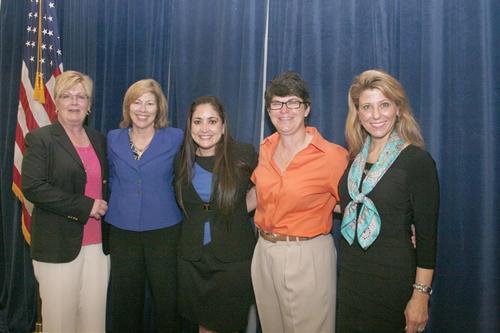 Building Pathways to the Future
As South Florida grows as a hub of international trade, Miami Dade College is getting ready in an equally big way to answer the call for a skilled workforce in the transportation, logistics and supply chain industry.
Pending state approval, MDC's new Associate in Science in Transportation and Logistics is planned to launch later this year at Homestead Campus' School of Aviation. The degree will lay the groundwork for a Bachelor of Applied Science in Supply Chain Management at MDC's Kendall Campus starting in 2014.
The new programs are a win-win for job seekers and employers alike with demand for skilled workers in a wide variety of capacities continuing to rise as the region becomes an increasingly important port of entry into the Americas.
Expanding Need
This new workforce demand was a focal point of discussion at MDC's recent "Be BOLD! Women in Transportation" networking luncheon and panel discussion. Held at Wolfson Campus, just steps away from the Port of Miami, the event brought together prominent women in transportation, logistics and supply chain management who enlightened a crowd of local industry professionals, MDC students and Miami-Dade County Public Schools students about the challenges and rewards of working in the field.
"Ryder will be very excited to see a college right here near headquarters preparing students for careers in supply chain management," said Natalie Putnam, vice president of marketing for Ryder System and a speaker at the event. "We need more people ready to work in the field."
Moderated by Jennifer Díaz, senior attorney at Becker & Poliakoff, the panel also featured Michelle Livingstone, vice president of transportation for The Home Depot; Andrea Funk, CFO and treasurer of Cambridge-Lee Industries, LLC; Barbara Pimentel, executive vice president and director of Florida Customs Brokers and Forwarders Association Inc.; and Monica Wooden, CEO and co-founder of MercuryGate International Inc.
Unfolding Opportunity
With national projections of job growth up 26 percent and 32,000 jobs added in the sector each year in Florida alone, opportunity abounds for prospective students eager to take the plunge into the bustling field of supply chain management, which offers average annual salaries of more than $53,000.
"We have a long, successful history of offering comprehensive educational programs that address workforce needs in this community," said Homestead Campus President Dr. Jeanne Jacobs at the event. "We keep our ear to the ground and continue to add new certificates and associate and baccalaureate degrees that are workforce focused."
— MR
More Academics Articles