---
Academics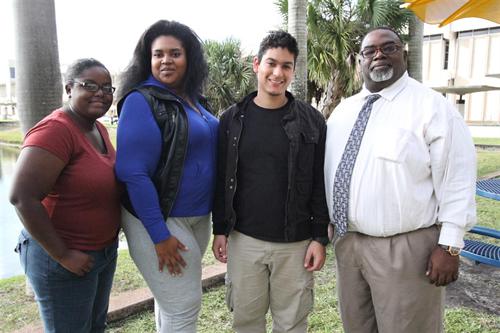 MDC Grads Awarded Scholarships to Tuskegee
Three Miami Dade College students have each received $50,000 scholarships from Tuskegee University, enabling them to continue their undergraduate studies at a top institution.
With MDC associate degrees in hand, North Campus grads Kenecia Collie, Sashana Jeffery and Mario Morejón are transferring in the fall to Tuskegee, which has an articulation agreement with MDC, to complete bachelor's degrees.
Aside from their outstanding scholarship, what they all have in common is the support they received from MDC's TRIO program, a U.S. Department of Education grant-funded program that gives multifaceted support to low-income and/or first-generation-in-college students to help them thrive and complete their studies. Since 2009, seven of the 10 MDC graduates to win Tuskegee scholarships went through the TRIO program.
"We spend a lot of time with our students to ensure that they get through the admissions and application process for the colleges of their choice," said North Campus TRIO Program Director Carlton Daley, who frequently hand-delivers scholarship and application forms to nearby colleges on behalf of his students. To make sure they become scholarship material in the first place, TRIO staff members keep up on students' progress, contacting them on a weekly basis. "We call, email, Facebook, leave messages. If we ever have trouble making contact, one of our staff physically goes to the student's class to make sure all is well."
For Collie, this hands-on approach made all the difference. "When I started out, I didn't take college seriously and I messed up," said the psychology major, who is graduating this summer with a 3.6 GPA. "The guidance I received from TRIO was just what I needed to get back on track."
The personal commitment that Daley and his staff pour into students' success has brought invaluable results. "Having that kind of support means having someone who is constantly fighting for you, rooting for you, wanting the best for you," Collie said. "That kind of dedication is truly empowering."
— MR
More Academics Articles