---
Academics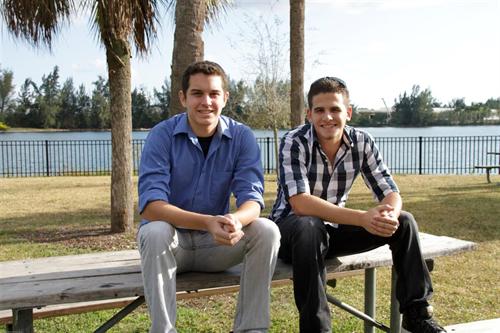 Dual-Enrollment Duo is Golden
The competition is fierce to get into Caltech. Making it through the door with a full scholarship is an even greater feat. But that is exactly what two exceptional students have done at MDC's School for Advanced Studies (SAS).
David Peña and Carlos González were two of only three students nationwide selected to become QuestBridge Scholars at Caltech this year. The coveted award covers full tuition, room and board for four years of study. Also known as the California Institute of Technology, Caltech ranks among the top 10 universities in the United States, according to U.S. News and World Report. The Caltech QuestBridge scholarship, which is typically worth around $200,000, includes two trips home to Miami from California each year for this pair of exceptional, hard-working scholars.
Double the Diplomas
As dual-enrollment students, Peña and González were awarded MDC associate degrees when they graduated this spring at the same time that they received their high school diplomas from SAS, recognized by Newsweek magazine as the sixth-best high school in the United States. Its graduates regularly head to the nation's top universities and Ivy League schools.
Peña attributes much of his success to the rigorous coursework he mastered at SAS and MDC.
Meeting the Challenge
"I've always pushed myself to the extreme," said Peña, who attended classes at Kendall Campus. "The SAS curriculum was difficult, but by working hard, I believe you can do anything."
Studying at North Campus, González said he felt fortunate to be pursuing the educational opportunities never afforded to his parents, who are Cuban immigrants.
"Their advice to me has always been that education is the key to success in this country, so I took that to heart," González said. "Now, I'm heading to Caltech."
— BK
More Academics Articles