---
Features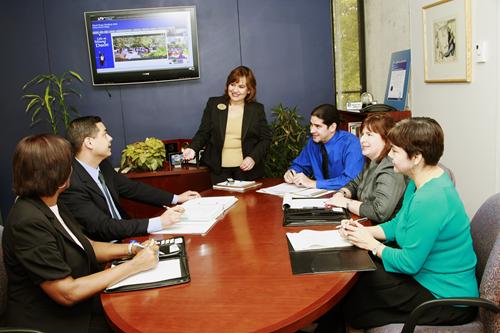 A National Model of Efficiency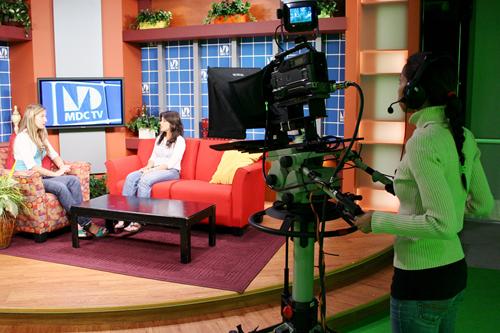 MDC-TV reaches hundreds of thousands of people while giving students valuable airtime to refine their broadcasting skills.
This spring, Miami Dade College was one of only seven colleges and universities in the United States honored by University Business magazine as a "Model of Efficiency." Two initiatives were singled out as noteworthy, cost-cutting measures: MDC's use of short video clips to recruit job candidates and the creation of MDC-TV.
The use of video clips was promoted after Miami Dade College's Human Resources Department tested various methods and discovered that allowing employees to tell their personal stories attracted more highly qualified candidates than traditional methods. Compared to costly job fairs that perhaps a thousand job seekers might attend, videos posted on the Internet and disseminated in email blasts to specific applicant groups can reach 15,000 viewers at a fraction of the cost.
"The power of storytelling is a potent recruitment tool," said Mary de Laosa, associate vice provost of Human Resources at MDC. "Most important, the videos allow us to share the possible impact that they, as potential new hires, can make in the lives of our students and community as a whole."
Similarly, with an in-house production budget of only $36,000 yearly, MDC-TV has the capacity to reach 500,000 viewers throughout the community – offering enormous savings over the cost of purchasing airtime and using outside production companies. It has proven an efficient means of highlighting MDC's more than 300 degree programs, community services and globally recognized Miami Book Fair International, Miami International Film Festival and numerous other cultural offerings.
Better still, "MDC-TV is a wonderful, professional internship opportunity that we provide to students in our Television Production program," said Barry Gordon, director of the School of Entertainment & Design Technology, which is based at North Campus. "The students get hands-on training and college credits, and they compile professional reels or demos that they'll use to seek employment in the field. Because of this internship opportunity and workforce-driven curriculum, many our students have gone on to work for several of the local television stations."
— NG
More Features Articles