---
Features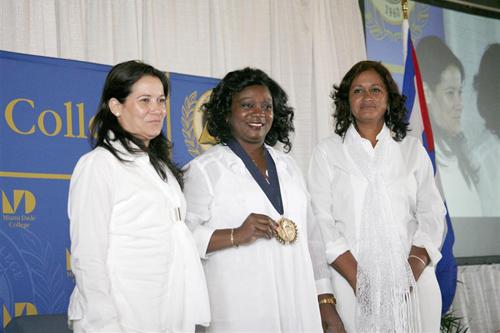 Guardians of Liberty
MDC President Dr. Eduardo J. Padrón recently presented Berta Soler, current leader and founding member of Damas de Blanco (Ladies in White), with the prestigious Presidential Medal and honored the group as "guardians of freedom" at a moving event at the College's iconic Freedom Tower.
Led by the late Laura Pollán, after Cuba's 2003 "Black Spring" crackdown on dissidents, Ladies in White – wives, mothers and daughters of political prisoners – began marching every Sunday in  Havana in silent protest to the government and as a reminder to fellow citizens of those serving sentences in Cuban prisons for daring to question the regime.
Many of the prisoners who inspired the movement recently were released, including Soler's husband, but the Ladies in White continue their march to call for political change. Earlier this year, Soler was able to travel under the immigration reform that allowed other prominent dissidents, including blogger Yoani Sánchez (see story on Page 9), to call attention to their country's situation. The Damas have received support from as near as Gloria Estefan and Willy Chirino in Miami to as far as the European Union, where they were honored in 2005 with the Sakharov Prize for Freedom of Thought.
The support of Soler by President Padrón was heartfelt and especially relevant for MDC's multinational student body.
"The courage and resilience of the Damas de Blanco speak to us of the essence of peaceful resistance: to be unwilling to resort to the same harsh tools – emotional and physical violence – that are deployed against them," he said. "They illustrate the strength required to maintain a human heart in the face of oppression, and it is a personal honor to recognize the Damas de Blanco with this award."
— NG
More Features Articles