---
Features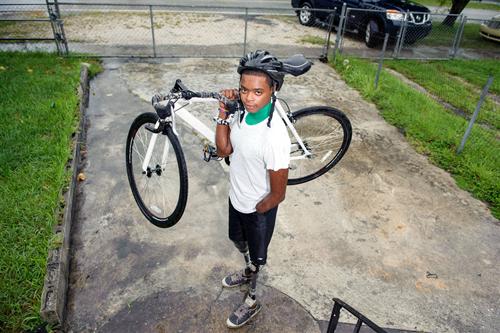 Free Like the Wind
Miami Dade College has been home to countless elite athletes over the years, but few have been as inspirational as Moise Brutus.
After a motorcycle accident on Oct. 10, 2010, that robbed him of both his legs and his left hand, Brutus was devastated, physically as well as emotionally.  But with the help of some newfound friends and inspiring professors at MDC, Brutus has made an amazing recovery.
Dual Focus
The 23-year-old is majoring in chemistry at North Campus, where he also trains several times a week in the hopes of making the 2016 Paralympics in Brazil as a cyclist. His ultimate goal is to become a chemist, and he has shown great potential as a student with a 3.5 GPA.
"I want to work in a lab and make pharmaceutical drugs safer for everyone," said Brutus, who added that his MDC professors have been understanding of his intense training regimen and have worked with him on his class schedule.
Inspiring Friendships
Brutus, who uses two prosthetic legs to pedal his bike, has forged a friendship with police officers César Andina and Carlos Villalona, the two on duty who helped save his life that fateful night when they found him on the Florida Turnpike. But for the first eight months after his crash, Brutus refused to go to rehab.
Things changed after he adopted a dog, an idea Villalona suggested. The officer knew of the healing powers of pets, and – sure enough – Dexter, a white Dogo Argentino, lifted Brutus' spirits.
Once Brutus began cycling, he found his new passion.
"I feel pretty much normal all the time, but when I'm on the bike, my mind is free," Brutus said. "Free like the wind."
Brutus said making the Paralympics seemed like an unrealistic goal at one point, but not anymore.
"Nothing's impossible to a certain degree," he said. "If you work toward a dream and make sacrifices, one day it will become a reality."
— WV
More Features Articles