---
Making Their Mark
Setting Records for NBC-6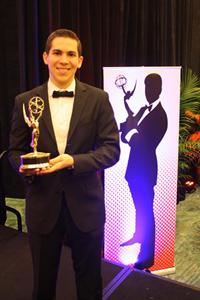 At the age of 20, MDC alumnus Brandon Launerts recently became the youngest person from NBC-6 to win a Suncoast Emmy award.
Countless Miami Dade College graduates and current students have gone on to outstanding career success, but few have done it any faster than Brandon Launerts.
The 20-year-old recently became the youngest person from NBC-6 to win a Suncoast Emmy award. The award was given for the TV station's coverage of the arrest of George Zimmerman.
Launerts, a news editor, shared the award with five other people who worked on the story, including anchor Jackie Nespral, reporter Willard Shepard,  executive producer David Henderson, special-projects editor Frank Adelson and producer Christine Portela.
Overwhelming Win
"I was stunned when we won," Launerts said of the awards ceremony, which was held in Fort Lauderdale. "We were the first category of the night, and when we heard our names, we were excited. I couldn't stop smiling."
Launerts, who took classes at MDC's Kendall Campus, graduated in May with a degree in mass communication and journalism.
The MDC Advantage
"I'm grateful that Miami Dade College let me do an internship with NBC-6 so early in my career," Launerts said. "At other schools, they don't let you work on an internship until you are a senior."
Launerts is quickly becoming well-versed as a journalist. But on the night he got his award, he learned a little bit about show business, too. "I started thanking everyone," he said, "and then the music started playing to get me off stage."
That's sometimes what happens when you are the youngest and the last one to speak in your group, but Launerts said his success thus far has nothing to do with age. Instead, it's based on the natural talent he developed at MDC.
"It's about whether broadcast journalists can trust the quality of my work," said Launerts, who parlayed his internship into a part-time job at the station. "I get things done quickly, and I'm a good leader. They wouldn't have hired me if they didn't have faith in my skills and training."
— WV
More Making Their Mark Articles