---
Powerful Partnerships
A Font of Entrepreneurial Expertise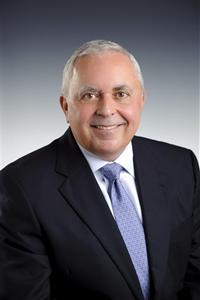 MDC District Board of Trustees Member Armando J. Olivera devotes his time to helping MDC expand its award-winning entrepreneurship activities.
When young entrepreneurs need great advice, nothing beats tapping into the wisdom of a successful CEO who has spent decades building a great corporation. Now that Miami Dade College District Board of Trustees member Armando J. Olivera has retired from his rewarding career as president and CEO of Florida Power & Light Co. (FPL), he is sharing his insights with those just getting started.
"I wanted to check some of the things off my personal bucket list once I retired, like helping young entrepreneurs develop their business ideas and skills," he said.
A Valuable Resource
Olivera is doing just that by coaching several people working on launching start-up companies. After nearly 40 years at FPL, Olivera puts MDC at the top of his list of outstanding institutions where his aspiring mentees can build the foundation they need to succeed.
"MDC does a phenomenal job of training people to get better jobs and, in turn, better their lives," he said. "There is a great energy at all of the College's campuses, and it really transforms our community. Young entrepreneurs have so much to choose from."
The options at Miami Dade College include its annual business speakers' series, growing number of bachelor's and associate degree programs, Continuing Education classes and certificates, and its award-winning faculty.
Wide Reach
In addition to guiding the region's future business leaders, Olivera makes the time to give back to the community in a wide variety of ways, including recently joining the board of directors of AGL Resources, the largest local distributor of natural gas in the country, and FLUOR, a global engineering construction company.
Yet still, despite his work with these high-powered organizations, the former FPL leader believes that the backbone of South Florida's economic future resides in more humble ventures.
"South Florida needs entrepreneurs," he said. "The development of more small businesses is key to our community's success. And MDC is right here helping us build them. In many ways, Miami Dade College has both the opportunity and the burden of providing the economic bridge for its tens of thousands of students who otherwise wouldn't have the chance to excel. And I am both honored and flattered to help the College and MDC President Dr. Eduardo Padrón with that great mission."
— BK
More Powerful Partnerships Articles