---
Powerful Partnerships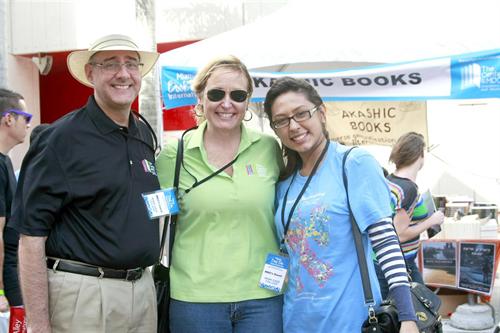 Lessons in Juggling it All
College life is demanding for everyone. When you're living on your own and balancing a full-time job along with a schedule packed with classes, it can be even more challenging. That's where the support of someone who has excelled academically and professionally plays a vital role in giving you the inspiration you need to succeed.
For MDC student Darlene López, that uplifting role model is Miami Dade College District Board of Trustees member Marili Cancio.
Worthwhile Endeavor
"Being part of MDC's iMentor program through Single Stop has been very rewarding for both of us," said Cancio, who expertly juggles serving on a wide range of community boards with her career as managing partner at Cancio Johnson & Echarte P.L., where she specializes in corporate, real estate and international law.
For López, the experience has inspired her to help others in the future. "To have Marili Cancio as my mentor has been such a blessing," she said. "The support from both the staff of Single Stop and Marili has been incredible, and I plan to one day be a mentor myself."
Cancio's enthusiasm for her job and her firm belief in the benefits of higher education have motivated her mentee to pursue a bachelor's degree in pre-law once López completes the associate degree at Miami Dade College.
Vital Connections
"I've been able to show her a different side of the law by having her join me for lunch with other lawyers," Cancio said. "Those connections have added a new dimension to her understanding of the profession, and she now plans to take her college studies to the next level."
A Miami Beach native with a great affection for the South Florida community, Cancio enjoys using the skills she has developed throughout her career to help MDC promote the good stewardship of tax dollars. She also brings her expertise to reviewing and approving financial, policy and strategic decisions and to educating legislators about the College's needs.
Managing these multifaceted community, work and volunteer endeavors, Cancio still finds the time to meet regularly with López, even if it means rearranging her busy work travel schedule, which often takes her to Brazil and other countries throughout Latin America.
"I love working with Darlene, so I make our meetings a priority," Cancio said. "I also try to show her by example the valuable lesson that in life, when you want to get something accomplished, give it to a busy person. After all, they are the ones who know how to get things done."
— BK
More Powerful Partnerships Articles