---
Cultural Spotlight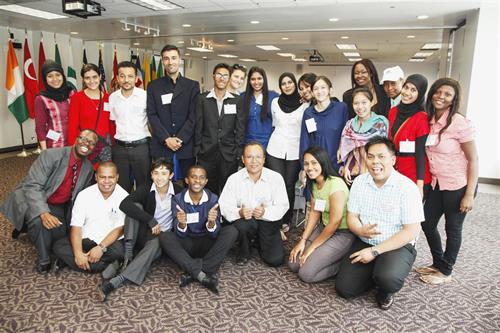 Experiencing U.S. Life Firsthand
Miami Dade College is changing the way the world perceives the United States – and it's doing so one student at a time.
Students from countries that are underrepresented at U.S. colleges and universities are flocking to Miami Dade College to share their perspectives with their peers in the U.S. The goal is to help students worldwide realize the importance of community colleges while also seeing the United States in a new, more positive light. 
Building Global Trust
"This group of students is amazing," said Shanathan "Nate" Crayton, who coordinates those now studying at Wolfson Campus. "We're building global trust through education at American community colleges."
This year, Miami Dade College has students from Bangladesh, Brazil, Colombia, the Dominican Republic, Ghana, India, Indonesia, the Ivory Coast, Kenya, Pakistan, South Africa and Turkey. Other institutions participating in the Consortium include prestigious colleges in Boston, Chicago, San Francisco, Phoenix, Houston and Washington D.C.Now in its fourth year at MDC's Wolfson Campus, with 16 students, the program has expanded to include Kendall Campus, with 12 students.
Diverse Fields of Study
The enthusiastic group will stay through May and study in academic and professional programs in a wide range of fields, including applied engineering, business management/administration, early childhood education, information technology, media and tourism/hospitality management.
In addition to their academic pursuits, the international cohort will learn about community service by participating in MDC outreach efforts, and they also will take part in internships.
To gain a broader perspective on life in Florida and the U.S., they will visit the Everglades, St. Augustine, Tallahassee, the Kennedy Space Center, Disney World and the Grand Canyon, with possible trips to New York City and Washington, D.C.
New Insights
"It's amazing how this program changes lives, and sometimes they don't even realize it until they get back home," Crayton said.
"Last year, the students learned about U.S. democracy, participated in political rallies and watched the presidential debates. They helped as organizers and watched as we all came together as Americans to vote.
"Through this program, we build great relationships. In a sense, Miami Dade College establishes a network throughout the world."
— WV
More Cultural Spotlight Articles