---
Making Their Mark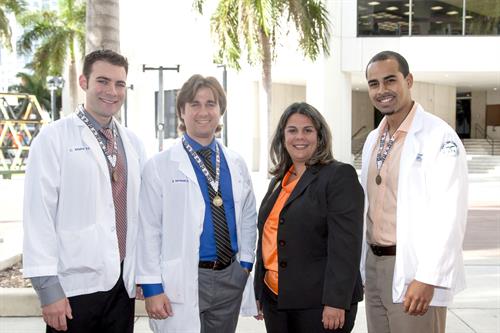 PA Students Excel at National Competition
Physician assistant students from Miami Dade College took home top honors at the recent National Challenge Bowl, where they beat out top Ivy League universities to qualify for the final round of competition.
Three second-year MDC students competed in a Jeopardy-style competition in Washington, D.C., against 68 other teams, comprising top-tier physician assistant programs at colleges including Yale, Cornell, George Washington and Duke University. MDC was the only two-year degree program that competed at this competition with other bachelor's and master's programs.
All in the Preparation
"Our team had the knowledge base and the dedication to go toe-to-toe with these other distinguished programs," said Dayne Alonso, chair of MDC's physician assistant program. "This is not only about knowledge; it's about strategy and having a quick and correct response."
Students Edgar Martínez, Maikel Hernández and Christian Atkins, a former Army medic, spent as many as 15 hours a week training for the event with their coach and MDC Associate Professor Dr. Nicolas Massimini after placing in the top three at the regional competition.
"I am very proud of their performance," Massimini said. "They put every cell in their bodies into the preparation. I call them the 'cream of the cream,' and they are well-prepared for whatever life brings and to be leaders in their community."
Leading Latinos Nationwide
The competition coincided with the American Academy of Physician Assistants (AAPA) conference, and first-year MDC student Iván Báez was nominated as president-elect for the Physician Assistants for Latino Health (PALH) representing Latino physician assistants across the country. This is the first time a PA student from MDC will serve in this capacity.
While in the nation's capital, MDC's team also promoted the College's program to members of Congress during a visit to Capitol Hill.
— AMS
More Making Their Mark Articles