---
MDC News Bytes
Leading the Nation in Associate Degrees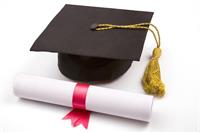 MDC awards more associate degrees annually than any other institution of higher education in the country.
Miami Dade College's outstanding affordability and accessibility have helped it remain the nation's leading campus-based producer of associate degrees for another year.
Not only does the College award more associate degrees annually than any other institution in the country, according to a recent report by the national publication Community College Week, MDC also leads in the number of associate degrees awarded to minorities, including Hispanics and blacks.
"Our mission has always been to change lives through the opportunity of education, and this report shows we continue to do that on a very large scale," said MDC President Dr. Eduardo J. Padrón. "It's not about being the largest, though; it's about how we can best serve those in need. We are very proud of the critical role MDC plays in making higher education accessible to some of the populations who might lack alternatives, in addition to those who choose MDC for its excellent programs and endless opportunities."
Miami Dade College also ranks prominently on the U.S. Department of Education's list of public colleges with the lowest tuition in the country, boasting tuition rates that are less than half the national average for four-year colleges.
More MDC News Bytes Articles