---
Academics
A Brainy Curriculum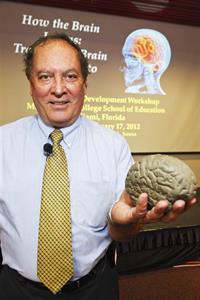 MDC's School of Education draws on the insights of neuroscientist Dr. David Sousa to bolster its curriculum. Above, Dr. Sousa at last year's workshop at MDC, "How's the Brain Learns."
Operating at the vanguard of teacher preparation, MDC's School of Education (SOE) is working with neuroscientist Dr. David Sousa to incorporate the latest research on learning into the curriculum of its world-class teacher education programs.
An internationally renowned authority on brain learning and educational neuroscience, Sousa will consult with the SOE during its upcoming curriculum review to ensure it addresses major principles of neuroscience: how the brain learns, memory and the impact of noncognitive factors, such as perseverance and grit.
"We are doing a complete curriculum revision not only to review Common Core standards, but we also want to do more intentional teaching based on neuroscience," said Dr. Susan Neimand, director of the School of Education. "There are very few teacher preparation programs around the country that are looking at these concepts. "
Through the SOE's renowned annual Pathways to Excellence in Teaching (PET) speaker series, Sousa, Dr. Martha Burns and other educational neuroscience experts have already helped shape how MDC trains future educators. Sousa's participation in the SOE's curriculum review further solidifies the School's commitment to teaching that keeps brain processes in mind.
"During his PET workshop, he went over some major principles that he thought should be included and visible in our coursework," Neimand said. "We are already three years into this work and faculty members have been working with his books to make sure it is not incidentally taught but intentionally taught."
— MR
More Academics Articles