---
Academics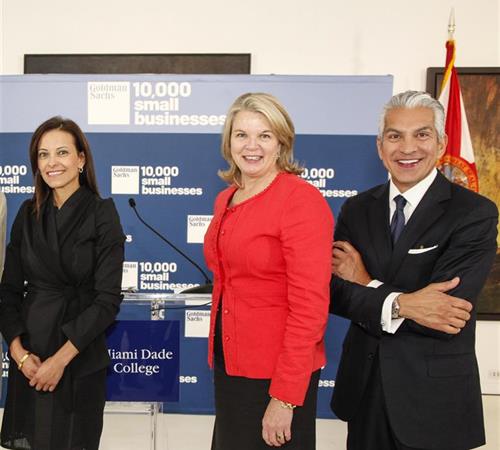 A Golden Opportunity for Small Businesses
Often owners of small businesses have great ideas and admirable gumption to get their companies off the ground, but they don't know how to take their organizations to the next level. To overcome this daunting hurdle, Goldman Sachs and Miami Dade College have partnered to offer crucial help to these industrious entrepreneurs.
At an Oct. 1 luncheon at Miami Dade College's National Historic Landmark Freedom Tower, local community leaders and government officials gathered to hear MDC President Dr. Eduardo J. Padrón and Goldman Sachs Foundation President Dina Habib Powell announce the launch of a Goldman Sachs 10,000 Small Businesses (10KSB) program at MDC. The 10KSB program is designed to help existing small companies create jobs and expand operations, stimulating economic growth.
Thanks to a generous $5 million grant from the Goldman Sachs Foundation, MDC will house the 10KSB program at its School of Business for the next five years. In addition, MDC's business professors will provide practical business education and management training while steering participants toward support services, networking opportunities and capital. Along with experts from Goldman Sachs, mentors from MDC's diverse community partners, alumni and business organizations will offer advice, insight and business contacts. Selected business owners will receive scholarships to cover all participation costs.
"We are celebrating a wonderful victory for our community," said Dr. Padrón at the launch. "We have a great tradition of making education accessible to our students. We look forward to making this program accessible to owners of small businesses who ordinarily would not have access to this level of services."
The program is part of Goldman Sachs' $500 million, 10,000 Small Businesses initiative, which exists in 15 major U.S. cities, from Chicago to New Orleans and from Los Angeles to New York. National results have been impressive: 99 percent of participants completed the course; 63 percent increased revenue; and roughly half created new jobs within six months of their graduation.
The 10KSB team is energetically reaching out to small businesses – and more specifically to minority- and women-owned businesses –throughout Greater Miami. The program will aim to include 30 to 40 business owners in the first cohort of the 100-hour course. Classroom instruction covers a three- to four-month period.
"The 10KSB program is unique," said John Hall, executive director, Goldman Sachs 10,000 Small Businesses. "It accepts small businesses in any industry or sector and is not limited to tech companies. Applicants don't have to be students at Miami Dade College, no geographic boundaries limit the location of the applicants, and there is no dollar cost to applicants."
"There are other advantages," Hall explained. "Scholars receive the combined benefits of practical classroom instruction, the support of business advisors and the wisdom of experts in specific subjects, along with peer group learning. By the time they graduate, each scholar will develop a comprehensive growth plan for his or her own business. For individuals who own businesses and are looking for a way to take their company to the next level, the 10,000 Small Businesses program is a valuable investment of their time."
Entrepreneurs who are interested in learning more about the program are encouraged to visit www.mdc.edu/10ksb and apply.
— NG
More Academics Articles