---
Academics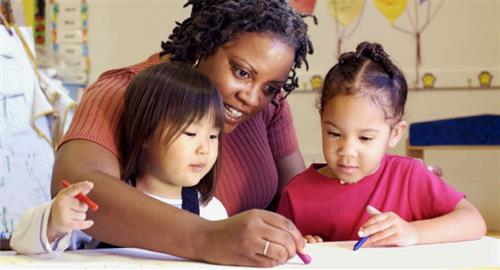 MDC Initiatives Boost Outcomes in Early Childhood Education
Teaching young children sounds as simple as a nursery rhyme. In truth, it takes significant training to do it right, especially to improve the outcomes of children with developmental challenges. Thanks to a well deserved, nearly $1 million grant from the U.S. Department of Education, MDC's School of Education will be able to provide enhanced preparation to students of its cutting-edge Bachelor of Science in Early Childhood Education (ECE) program, enabling them to identify challenges kids face and take positive steps early for a lasting impact.
"Intervention at a very young age is critical so that these difficulties don't become egregious problems for these children down the road," said Dr. Susan Neimand, director of MDC's School of Education.
The new endeavor is endearingly dubbed Project Ei-Ei-O!, for Early Identification Early Intervention Opportunities. Starting in January, the five-year grant will train 80 teachers working with children from birth to age 4 who are showing signs of autism, language disorders or other developmental hurdles. The grant not only covers tuition and books but also provides a living stipend to the teachers-in-training.
ECE majors will be able to take part in Project Ei-Ei-O! upon entering the upper-division program of the baccalaureate, which will have its first graduating class in May 2014.
A New Credential en español
Improving early childhood education from another angle, in response to requests voiced by community partners in early childhood education, MDC's School of Education now offers the Florida Child Care Professional Credential (FCCPC) in Spanish at Kendall and North campuses.
"The focus is not the care provider but the child," said Neimand. "By providing instruction in the caregiver's native language, alongside contextualized English, MDC is raising the bar for child care in South Florida while simultaneously making compliance with state laws accessible and unavoidable."
By the Book
Requested by The Children's Trust and the Early Learning Coalition, the credentialing courses are taught by SOE staff in partnership with the College's School of Continuing Education and Professional Development. They will enable Spanish-speaking caregivers to receive the state credential and work by the book rather than under the radar, in turn improving outcomes for their young charges. Pending the outcome of this fall's Spanish program, MDC plans to offer coursework in Haitian Creole in the spring.
"These practitioners are not going to become fluent in English," Neimand said, "but they should be able to talk to parents in English. They should be able to label things around the classroom so that children can recognize words and make a mental connection. We're doing our part to ensure that young children are getting the best possible care."
— MR
More Academics Articles