---
Cultural Spotlight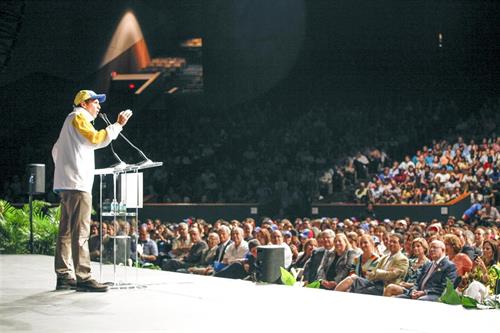 Bringing in World Perspectives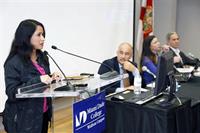 Luisa Torrealba, spokeswoman for the Press and Society Institute of Venezuela, speaks about impact of socialism on freedom of the press at a recent conference presented by MDC's Center for Latin American and Caribbean Initiatives (CLACI).
Through its Center for Latin American and Caribbean Initiatives (CLACI), MDC provides a platform for engaging students, professors and the community in thought-provoking discussions on issues affecting this region of the world.
Making Headlines
CLACI opened the academic year with the conference "21st Century Socialism and Its Impact on Freedom of the Press." The event included well-known journalists from Argentina, Venezuela, Nicaragua, Ecuador and Cuba, including independent blogger Yoani Sánchez.
Later in September, more than 5,000 people flocked to a presentation by Venezuelan politician Henrique Capriles Radonski, who was the opposition candidate in the country's still contested presidential election last year. He enthralled crowds at the James L. Knight Center with a lecture on the struggle for democracy in his country and around the world.
Tackling Tough Issues
On the heels of this event, CLACI offered its "Conference on Preventing Genocide," presented in collaboration with Miami Dade College's Holocaust and Genocide Education Program. The panel addressed the early detection of crimes against humanity, impending genocides and what the international community may do to prevent them.
The event was sponsored by the U.S. Institute of Peace's Public Education for Peacebuilding Support initiative, which promotes lectures, seminars and other activities that focus on fostering international peace while at the same time encouraging conflict resolution.
Global Lessons
In conjunction with MDC's Hispanic Heritage Month, CLACI convened panelists from Colombia, Cuba, the Dominican Republic, Panama, the U.S. and Venezuela to address the roots and persistence of discrimination in some countries of the Caribbean Basin.
Last month, the Center also hosted a conference exploring Germany's reunification at the end of the Cold War and considered if lessons could be drawn for Cuba. This second conference of the Cuba Study Group's Reconciliation Project was presented in partnership with the Cuban Research Institute at Florida International University.
— AMS
More Cultural Spotlight Articles