---
Features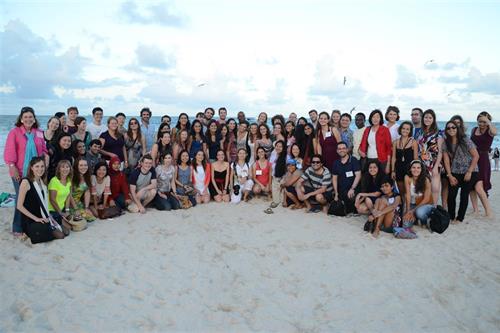 Fulbrighters Start U.S. Journeys at MDC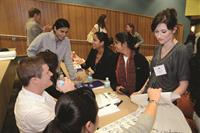 Among the orientation's classroom activities, Fulbrighters discussed cultural sensitivity and appropriate behavior in preparation for their year of living in the United States.
As one of only 10 Fulbright Gateway Orientation institutions nationwide, Miami Dade College gives a warm welcome each summer to master's and doctoral students from around the globe and prepares them for the experience of a lifetime.
Hailing from 42 countries, this year's 70 arrivals came from diverse fields and countries such as Bosnia-Herzegovina, Israel, Singapore, Brunei and South Korea. At MDC, they received a crash course on what to expect about life in the U.S. as a buffer for the culture shock that many would likely experience during their studies here. As cosmopolitan as a city can get, Miami is an ideal location for a taste of America's diverse, melting-pot society.
A Global Place
"You're in a very unique gateway city and county in the United States," said Betty Castor, J. William Fulbright Foreign Scholarship Board member, as she addressed the new arrivals. "This is a global place."
At the orientation facilitated by MDC's experienced staff, Prof. Dorothy Avondstondt and Prof. Rosalie Kolesar, the Fulbrighters got a chance to explore their new surroundings in and out of the classroom. A jam-packed schedule of lectures ran the gamut from the historical and cultural – one on U.S. politics, another on jazz – to the quotidian yet nonetheless potentially stressful issues of daily life, such as managing culture shock and appropriate interpersonal relationships. Fun and informal dinners dominated the evenings, including a barbecue on South Beach and a boat tour of Biscayne Bay that gave the visitors a million-dollar view of the Miami skyline.
From the Magic City, each of the Fulbright students ventured forth to their host university to further their studies. Some, like doctoral student Monica Kaushik from India, traveled much farther beyond Miami than others. The environmental studies researcher, studying this fall at Colorado State University, is heading to Kauai, Hawaii, in January to learn about the island's successful efforts to protect the puaiohi, a native songbird. "I want to take all the information from my studies here back to India," Kaushik said. "I have done similar studies in India but, in addition to learning captive breeding techniques, there is tracking technology that I can't wait to learn about and implement."
Ronan Sugrue, a cardiologist from Ireland who will be spending his Fulbright year at Harvard University, is going to study the U.S. health care model to bring back ideas for improving his country's health care system.
A Common Thread
While the assortment of backgrounds, experiences, fields and interests among the 70 Fulbrighters was vast, there was a common thread of mutual understanding.
About the Fulbright Gateway experience, Sugrue noted, "The diversity and expertise is so huge among us that there is no overlap, but we converge in the one important area – our  idealism. We all want to change the world."
— MR
More Features Articles