---
Making Their Mark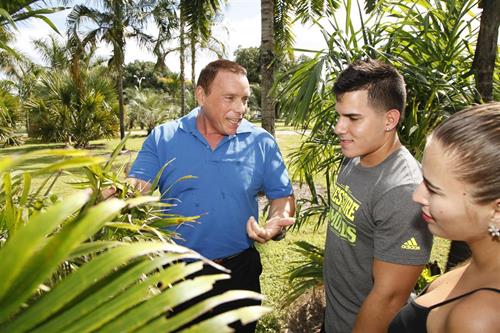 Planting the Seed for Research Success
North Campus Biology Prof. Dr. Steven Ritter received a prestigious fellowship that proved as beneficial for students as it did for his own personal research.
Ritter, whose expertise is in the field of botany, was one of only 10 people chosen from across the country for the U.S. Department of Agriculture's (USDA) 2013 E. Kika De La Garza Fellowship.
The program, which selects accomplished faculty and staff from Hispanic-serving institutions, is designed to enhance fellows' professional growth while fostering workforce diversity.
Making Connections for Students
As a Science Fellow, Ritter spent time this summer in Washington, D.C., and at Chapman Field, in South Dade, which is a USDA Subtropical Horticulture Research Station. There he worked with a scientist breeding amaryllis plants, helped decipher plant chromosome makeup and also developed research opportunities at the facility for MDC students.
"The fellowship proved to be a rewarding and fulfilling experience that has provided new opportunities for me, MDC and most importantly our students," said Ritter, who has been a full-time professor since 2004 and previously has been awarded a prestigious MDC Endowed Teaching Chair.
Palmetum an MDC Treasure
The fellowship reflects well on MDC and is a "wonderful program," Ritter said. It also is an acknowledgement of his broad and deep knowledge of plant science, which was instrumental in the establishment of the 300-species Palmetum at North Campus.
Malou C. Harrison, interim North Campus president, praised Ritter as "an outstanding professor and scholar fully dedicated to the academic well-being of his students."
— Staff Report
More Making Their Mark Articles