---
Making Their Mark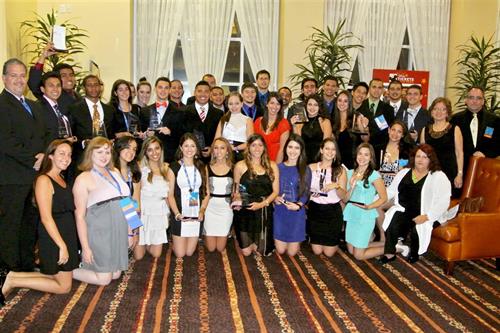 A Winning Proposition
Business students from Miami Dade College ranked among the top competitors at the national Future Business Leaders of America (FBLA) – Phi Beta Lambda (PBL) competition in California.
MDC students from Kendall and Wolfson campuses took first place in the Integrated Marketing and Statistical Analysis sections, and took second and third place honors in six other categories and placed among the top 10 in several more.
Surpassing Expectations
"The students this year outshone every single prior year of students who have been at the national competitions," said Professor María Mari, who teaches in the School of Business at MDC's Kendall Campus. "We had more first and second places than we've ever had. The students spent countless hours preparing, and their dedication clearly paid off."
That preparation included dozens of practices where students would rehearse their presentations, practice answering questions and make sure that their projects met all the guidelines, said accounting student Jessica García, who characterized the national competition as stressful but rewarding.
"You meet students from really prestigious universities, and when you are competing, all eyes are on you," she said. "But it doesn't matter which school you come from as long as you're prepared. I'm really proud of how we performed so well against such high-caliber schools from around the country."
On a Roll
The students earned a spot in the national competition after excelling at the PBL State Leadership Conference earlier this year, where MDC nabbed more first- and second-place wins than any other college or university in Florida.
The MDC stars outperformed many juniors and seniors from other top universities and colleges in the state, boosting their confidence as they headed into the nationwide event this summer.
The challenging event tested their business knowledge and leadership skills while giving them the opportunity to share their successes and learn new ideas about shaping their future careers through workshops in addition to exhibits.
— AMS
More Making Their Mark Articles