---
Making Their Mark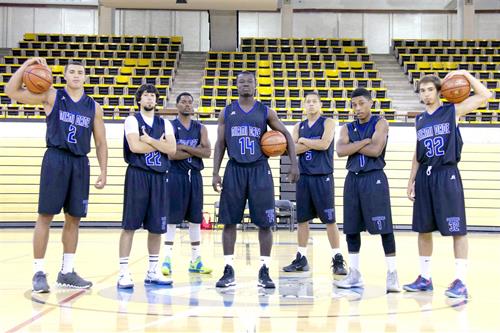 Driven to Excel
Thanks to hard work, a winning attitude and lots of hours on the court, the Sharks men's basketball team is strong this year and getting stronger, with several talented new players to watch in the season ahead.
When Stephen Cowherd, who is now in his third year as MDC's coach, took over the team just 10 days before the start of the 2011-2012 season, there were no players on the roster. He and his staff had to scramble to put a team on the court. Yet that team somehow won seven games, and MDC coaches helped three of those players advance to play at four-year schools.
Last season, MDC improved with 10 wins, and four players went on to play at the next level. The improved record was accomplished despite considerable adversity such as injuries, leaving the team with only one scholarship guard.
That player was Michael Calder, a 6-2 point guard who made first-team All-Southern Conference. Calder is back again this season, and the Sharks are poised to have their best team in years.
Better Than Ever
Calder will be joined in the backcourt by 5-11 freshman Omar Roberts of Washington, D.C., and 6-2 sophomore Darius Perkins, who went to high school at Broward County's Chaminade.
The best player on the team could very well be 6-5 sophomore Mike Ramey, a brilliant shooter who transferred from a four-year Division I school, Ball State. In high school, he led the state of Indiana with a 53 percent success rate on three-pointers.
Other players to watch include Marcus Varner, a 6-5 freshman from Baltimore; Prince Cooper, a solidly built 6-4 freshman lefty from the Bahamas; and 6-8 sophomore JJ Ziv, a skilled shooter who played at Coral Gables Senior High before competing at the Division III level.
Aiming High
Looking to break into the rotation will be 6-5, 225-pound freshman Kevin Portillo, the son of former Miami High star César Portillo; Tre Boutlier, a 6-5 sophomore transfer from Division II Emporia State; Johnson Decembre, a 6-5 sophomore from Wentworth Military prep school; and 6-2 freshman Jaylin Gilbert, a big-time scorer from the Jacksonville area.
"This year's team is impressive, and they can really score," said Cowherd, who believes that at least six of this season's players will go on to play at four-year universities.
— WV
More Making Their Mark Articles