---
MDC News Bytes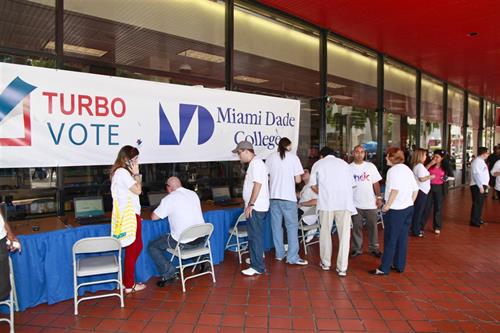 A Winning Campaign
Long known as "Democracy's College," Miami Dade College is once again leading the way in involving students in the democratic process.
Recently, MDC President Dr. Eduardo J. Padrón joined Sen. Bob Graham, Congressman Lou Frey and other college presidents from across the nation to launch the New Standard for Campus Voter Engagement. This initiative stipulates that every college should provide students with information and materials they need to vote in every election, from local to presidential. At the forefront of this endeavor, MDC's Institute for Civic Engagement and Democracy is playing a vital role in implementing the initiative this fall.
MDC was one of the first colleges in the nation to sign on to TurboVote, a Web-based system that allows students to register, request absentee ballots and receive reminders before elections. Last year, more than 3,000 students at Miami Dade College registered during the pilot phase, making MDC the second-highest in the nation among all colleges.
— AMS
More MDC News Bytes Articles