---
Academics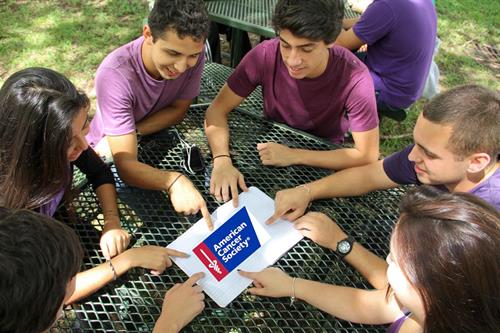 Bringing Classroom Lessons to Life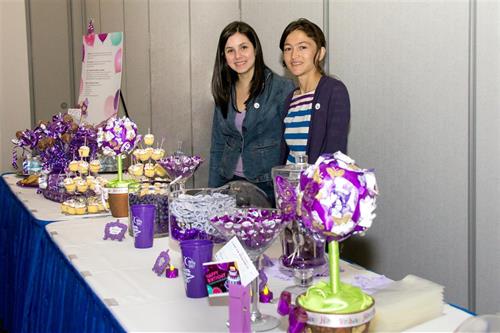 The students hosted several fundraisers in support of ACS and ended their service-learning efforts with a ceremony at Kendall Campus celebrating 100 years of cancer research.
Business students at Kendall Campus recently partnered with the local American Cancer Society (ACS) to raise funds and create awareness among their young peers as part of an impactful service-learning project.
Real-World Lessons
Developed by Professor Emeritus of Business Barbara Rosenthal, the project helped students develop skills acquired through their classroom lessons in areas including branding and integrated marketing communications, among many others. They were able to apply these lessons to a real-life scenario while also having a positive outcome on both the College community and the community at large.
By working in groups, this multicultural class of students from countries including Pakistan, Kenya, Bangladesh and the Ivory Coast developed a cancer awareness campaign targeted toward younger age demographics.
"They learned critical thinking – how to try to tap community resources," said Rosenthal, who is herself a cancer survivor.
"They also exercised creative skills in the informational fliers and original video they created," she said. "They learned communication skills in their philanthropic requests and formal presentation. Finally, they utilized team-building and leadership skills to bring their goals to life."
Their project was so successful that they more than doubled their original fundraising goal.
Personal Impacts
One of Rosenthal's students in the project was Devon Yeldell, 18, who is more knowledgeable about cancer than most people his age. He lost his paternal grandmother to lung cancer a few years ago. Recently, he discovered an older cousin has breast cancer.
But as a result of his efforts on the service-learning project, Yeldell earned a deeper understanding of the disease.
"I learned that cancer does not discriminate," he said. "Young people have to get themselves checked, and they must be vigilant about monitoring their health."
— WV
More Academics Articles