---
Academics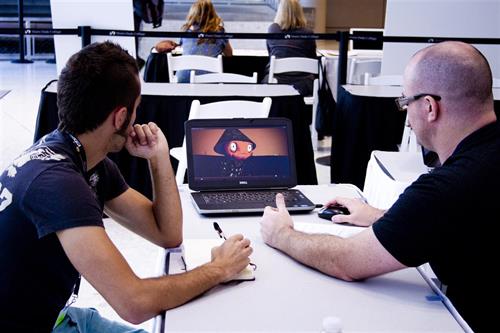 To Infinity and Beyond
Pow! Bang! Kerplop!
With more excitement than a classic Batman cartoon and all the innovative spirit of Pixar feature films, the MIA Animation Conference and Festival drew throngs of aspiring animators to MDC's Wolfson Campus this fall. Each character had a tale to tell, and each left with a mission to accomplish.
There was Web development specialist Mark Simpson, who has worked on video games at a small startup in Texas; MDC New World School of the Arts (NWSA) digital media students Tianna Harvey and Jackie Albano, who are creating a lighthearted 2-D cartoon series; and NWSA grad and Web development specialist Michael Matamoros, who creates animation for video games and films for weddings.
Matamoros said the one-on-one interactions he had with experts in the field were a highlight of the conference.
Personal Coaching
"The intimate conversations we had with successful people in the industry who are doing what we want to do for a living and yet are so down-to-earth was great," he said.
For MIA Animation Executive Director Debra Pierce, this type of unique networking experience is one of the conference's main attractions.
"Attendees connect with representatives from Cartoon Network, Disney and Univision," she said. In addition, they receive portfolio critiques at a job fair, attend workshops and sessions on the latest animation software and watch recent animation film submissions from students and young directors from around the globe.
Competitive Spirit
For participants Harvey and Albano, the conference offered the tools they needed to prepare their animated series for submission in the festival's contest next year. "What we learned about character design and how to pitch ideas will impact the way we make our show," said Harvey.
Added Albano, "We'll definitely enter the competition next year."
That is exactly what MIA Animation founder and President Mauricio Ferrazza hoped would result from the event.
"Our mission is to empower our community by providing enterprising animators with knowledge and skills to better themselves as individuals and future professionals," said Ferrazza, an expert computer animator who teaches online courses for the Art Institute of Pittsburgh and has designed graphics for the World Cup and the Latin Grammys. "MDC is the perfect place to carry out these goals and our future endeavors."
— JG, BK
More Academics Articles