---
Features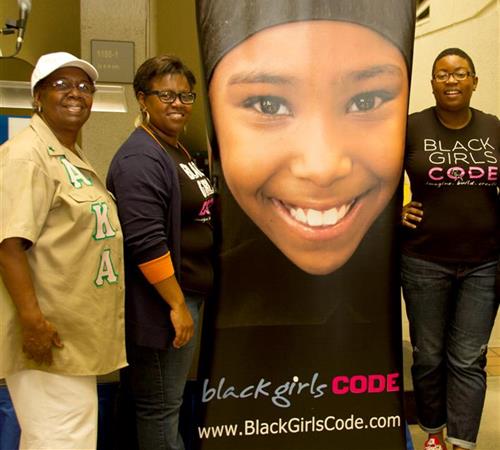 A Window Into Programming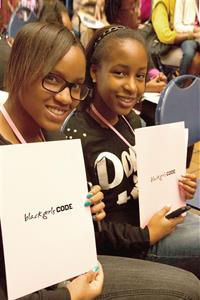 Girls ages 7 to 17 came to MDC's Carrie P. Meek Entrepreneurial Education Center to get better acquainted with the world of tech.
MDC's Carrie P. Meek Entrepreneurial Education Center (EEC) recently hosted the first workshop for the new Miami chapter of Black Girls Code (BGC), an organization that aims to bring more young, black girls into the world of technology and computer programming.
By the year 2020, there will be more than 1.4 million jobs in computer technology. Currently, African-American women make up only three percent of the computer technology labor force. Kimberly Bryant, founder of Black Girls Code, saw a gap in the pipeline and created a national nonprofit to expand awareness among young girls of color by showing them the possibilities of careers in the fields of science, math, engineering and technology.  
Exciting Workshops
The hands-on workshop, sponsored by the Miami-Dade Economic Advocacy Trust (MDEAT), targets young girls ages 7 to 17 and offers a rich curriculum in technology and computer programming through day-long workshops focused on Web, mobile app and game design. On Nov. 23, more than 60 young girls, their parents and volunteers from South Florida and across the country converged at the EEC for the "Build a Web Page in a Day" workshop. To achieve the mission of creating a new generation of coders, the main activity of the day centered around helping each girl create a personalized Web page.
While girls as young as six enjoyed such tasks as choosing pictures and colors for their sites, older girls applied what they were learning toward future endeavors.
"This was my first time making a Web page, and it was a great experience because I can actually use it for my future business," said Velemka Green, an entrepreneurial 13-year-old whose business plan combines travel and shopping.
"This event brought together all of the major elements. Entrepreneurship is about identifying new opportunities; technology opens up a vast array of possibilities and approaches to create new solutions; and BGC focuses on a specific market – girls of color – who bring fresh ideas and talent to this arena," said H. Leigh Toney, executive director of the Meek Center.
Community Connections
Felecia Hatcher and Derick Pearson – a husband-and-wife duo who own Feverish Popsicles and Gourmet Ice Cream and founded Black Tech Miami – serve as the program's local technology liaisons to the burgeoning tech community in Miami. "This event showed that South Florida girls are hungry for the information, training and opportunities that technology provides. They were excited to see their ideas come to life on screen, and I am excited for what it means for their futures," said Pearson.
"Not only were the girls excited and engaged in the training but so were the parents," said Hatcher. "More than 80 percent of the girls' parents stayed to get the tools that they needed to continue to inspire their daughters."
"I'm proud of the full array of offerings available at the North Campus and EEC during Global Entrepreneurship Week," said Malou C. Harrison, president of MDC's North Campus. "Our approach will be to continually bring to everyone in our community the best practices in interdisciplinary entrepreneurship education and creative collaboration."
The Meek Center will offer four more Black Girls Code workshops this spring. Contact Toney at 305-237-1914 for more information.
— Staff Report
More Features Articles