---
Academics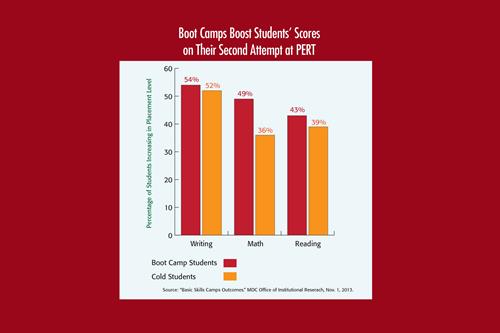 Boot Camps Lead Way to College Success
Proudly known as "Democracy's College," Miami Dade College offers the opportunity of education to anyone who seeks it. With prospective students coming in at uneven levels of college readiness, this often means getting them up to speed in basic skills such as reading, writing and mathematics just to get past their first collegiate challenge: the Postsecondary Education Readiness Test (PERT).
Incoming students are urged to take the exam to determine appropriate course placement at registration. With recent declines in state support for developmental education programs, Miami Dade College's Student Achievement Initiatives (SAI) office has proactively sought and implemented new ways to get students college-ready and set them up for long-term success. One such strategy is the creation of Test Preparation Boot Camps that are helping students with low PERT results quickly refresh their skills, improve their scores, lift their course placement and, in turn, their likelihood to succeed in college and in life.
Domino Effect
"Research shows that the more remediation a student needs, the less likely they are to complete the developmental education sequence, persist to college-level courses, and earn a college degree," said Dr. Alanka Brown, director of the Office of Student Achievement at Miami Dade College. "Thus, through the implementation of boot camps, we've found that decreasing and/or eliminating a student's time in developmental education increases their probability of success in college-level courses and the completion of their program of study."
MDC's Office of Institutional Research recently compared the outcomes of Boot Camp students on a retake of the PERT against "cold" students, who did not attend a Boot Camp. The data show that Boot Camp students placed higher across the board versus their peers.
Consistent Gains
Students who attended the Boot Camps showed impressive improvements when retaking the PERT, with 54 percent of those in the writing Boot Camp increasing their scores by at least one placement level.
Not only did more writing Boot Camp students place up than cold students, but they also showed greater improvement in performance, making a seven-point increase on the mean PERT test score, versus cold students' five-point gain. Additional analysis showed that the groups were significantly different, with Boot Camp students starting further away from the next placement level than cold students, underscoring the camp's overall impact on performance.
While Boot Camp students made the greatest gains in writing, they showed much greater improvement over cold students in math, the subject in which entering students tend to have the most difficulty. Among cold students, only 36 percent placed a level higher after taking the test a second time, versus 49 percent of Boot Campers. In reading, 43 percent placed up at least one level.
"In addition to improving PERT scores and decreasing the time in developmental courses, our Boot Camps have demonstrated longer-term implications for first-time-in-college students," said Brown. "Through Boot Camp students, we can accurately assess skills gaps and intervention needs early on to better prepare them for transition into the rigorous academic coursework they will encounter at Miami Dade College."
— MR
More Academics Articles