---
Features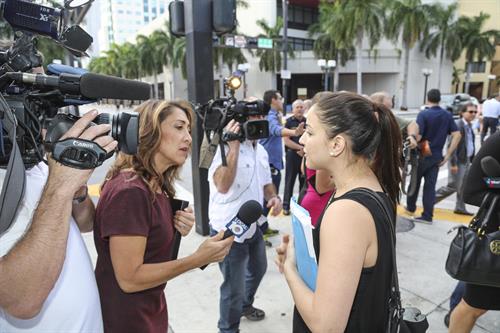 Academic Freedom for All
Miami Dade College has the unique ability to reach everyone who has a passion for learning, and that has been on display recently in the case of 17 students from Cuba who are spending an entire semester at MDC, taking part in an unprecedented scholarship program.
After they complete English, sociology, computer, psychology and business classes, the students will return to Cuba to teach what they have learned to others who don't have the same opportunities to study abroad, said Juan Antonio Blanco, director of MDC's Center for Latin American and Caribbean Initiatives (CLACI).
Unique Opportunity
The program is extraordinary because the students, who range in ages from 18 to 37, include three well-known critics of Cuba's communist regime: Raudel Collazo of the rap group Escuadrón Patriota; graffiti artist Danilo Maldonado-Machado, known as El Sexto; and blogger Henry Constantín, who was expelled from the University of Oriente in 2006 and the Marta Abreu University in Villa Clara in 2008. In addition, four of the students are family members of dissidents. And, most are women. 
"We want to be free individuals with knowledge of technologies that don't exist in Cuba," said Maldonado-Machado.
MDC welcomed the eager students just as it has opened the doors of opportunity to thousands of others from all over the world who enroll each year at the nation's largest and most diverse institution of higher education.
Support From Nonprofit
The Miami-based nonprofit Foundation for Human Rights in Cuba selected the students and has funded their studies and stay in Miami.
It is the first time in 55 years that Cuban students who call the island  nation home are attending college in the U.S. This initiative is also unique in that the applications and the selection process were done outside of state-controlled institutions for the first time in more than five decades.
Over the past six months, MDC has been the first stop for Cuba's most famous dissidents and independent journalists who for the first time have been allowed to leave the island. Famous blogger Yoani Sánchez, dissident Guillermo Fariñas, Ladies in White leader Berta Soler and others have all presented at Miami Dade College. For the students, it's a huge honor to study at MDC where these champions of democracy first spoke on U.S. soil and in freedom.
More Features Articles