---
Making Their Mark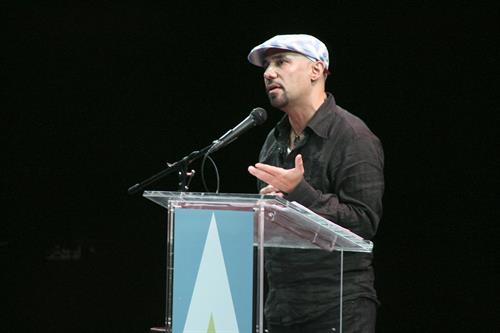 Cruz Wins Greenfield Award
MDC Hall of Fame alumnus and award-winning playwright Nilo Cruz recently received the 2014 Greenfield Prize, which honors artists in various disciplines whose past achievements and future prospects position them to create new works that are destined to have a significant impact on culture.
"I am very grateful for the Greenfield award," Cruz said. "It is not only a recognition of what I have written in the past, but more an award that comes full of inspiration for the stories I want to unravel in the future and the characters who are waiting to be represented."
Heading to the Hermitage
As part of the prize, Cruz, who won a Pulitzer for his 2003 work Anna in the Tropics, has been commissioned to complete a new project in the next two years. He will be awarded time and space to do so at the noted Hermitage Artist Retreat in Florida.
"Our very distinguished jury had a very hard decision to make," said Hermitage Executive Director Bruce E. Rodgers. "In the end, they selected Nilo Cruz for the poetic nature of his work and where he stands in his career at this time."
Momentous First
As the first Latino and only the third playwright to receive the Greenfield Prize, the award is especially meaningful to Cruz.
"With the Greenfield Prize comes the continual recognition and trust of Latino playwrights who in the past decades have been acquiring a place in North American theaters," he said. "Sometimes Latinos might only be perceived as exiles and immigrants in search of freedom and financial stability, but we also come to this land with suitcases full of paintings, novels and plays, the substance and observation of the imagination."
Cruz received the Prize at a special dinner, where Oscar-winning actress Olympia Dukakis served as keynote speaker. He was recently in Miami to direct a three-day run of his new play, Sotto Voce, which premiered in New York earlier in the spring.
— AMS
More Making Their Mark Articles