---
Powerful Partnerships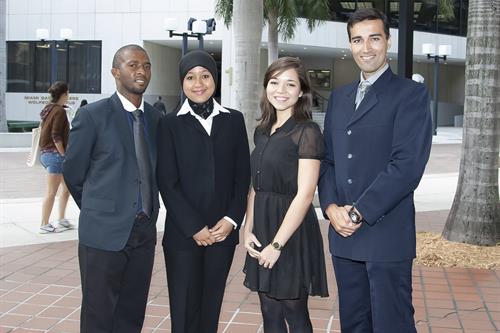 Collapsing the Distance Between Continents
This spring, 28 students from 13 countries completed an exciting year of studies at Miami Dade College as part of the Community College Initiative (CCI) program. As they learned new lessons about themselves, they also expanded the horizons for their peers at MDC.
"When I was growing up, we had very few opportunities," said Shahid Tasleem, an enterprising student from Pakistan studying business administration at MDC's Kendall Campus.
"We lived in a beautiful, small village, but there just were not any  options for getting a great education," Tasleem said. "My mother and father gave up everything and moved our family to the city of Karachi just so we could have a better chance."
New World Views
Like Tasleem, the other CCI students at Miami Dade College have life stories quite different from those of most people studying at a U.S. college or university. And that is precisely the mission of CCI – to create connections and foster greater understanding in an effort to promote peaceful relations around the world.
Funded by the U.S. Department of State Bureau of Education and Cultural Affairs, CCI accepts into its program students from countries that are underrepresented in U.S. institutions of higher education. This year's diverse group attending Miami Dade College includes dedicated scholars representing a wide range of nations, including Bangladesh, Brazil, Colombia, the Dominican Republic, Egypt, Ghana, India, Indonesia, the Ivory Coast, Kenya, Pakistan, South Africa and Turkey.
A Brighter Future
In addition to increasing cross-cultural understanding, CCI helps the students prepare for future careers and leadership roles in their communities, said Margaret Di Gennaro, CCI coordinator at MDC's Kendall Campus.
"Through total immersion in the English language and challenging internships, the students return home with more opportunities on the horizon," Di Gennaro said. "Their lives change, and it's wonderful to see that transformation."
Like Di Gennaro, Tasleem sees the numerous benefits of the year he has spent at MDC.
"CCI is the best program I've ever been in," he said. "It isn't just an educational experience; it's about community service and diversity, too. I never had the chance to meet people from all over the world and learn about their cultures and religions. The CCI experience has really changed my life."
Looking ahead, he added, "We have many things to give back to our communities when we return home, and many things we want to do to build our countries. Hard work can accomplish anything."
More Powerful Partnerships Articles