---
Academics
A Dream Come True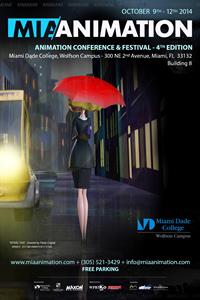 Hosted by MDC, the acclaimed MIA Animation Conference & Festival will be held Oct. 10-11.
Aspiring leaders in the animation industry will have the opportunity of a lifetime to learn from the masters this fall during the MIA Animation
Conference & Festival on Oct. 10-11, hosted by Miami Dade College at Wolfson Campus. Opening the event with flair will be keynote speaker Tom Sito, an animator who worked on the wildly successful films Shrek, Beauty and the Beast and many others.
MDC is a natural site for this exciting festival, given its renowned courses in the field. The MDC School of Entertainment & Design Technology's (SEDT) Associate of Arts with a pathway to a degree in computer arts animation gives students the foundation they need to pursue rewarding academic and professional careers in computer animation for films, television, digital media and video gaming.
"With SEDT's state-of-the art facilities, world-class faculty and rigorous hands-on academic training, students are well-poised to continue their studies at a four-year institution and also to begin working in the industry using the skills that they have attained at MDC," said MDC North Campus President Malou Harrison.
In addition to Sito, Drew Tolman and Kimberly Dennison, from Walt Disney Television Animation's post-production; Leah Hoyer, of Microsoft Studios narrative design; and Miami Dade College alumnus and creator of the Baldo comic strip Carlos Castellanos are among the film industry leaders who will appear.
Looking forward to the lasting impact that this year's conference will have,  Wolfson Campus President Dr. José A. Vicente said, "The MIA Animation Conference & Festival introduces animation experts to MDC students, allowing them to interact and get the latest word regarding current studio projects and industry information, as well as advice that could help our students with their careers. Professional networking is an important component that leads to success in any industry, and the opportunity that this conference and festival affords our students is really unparalleled."
More Academics Articles