---
Features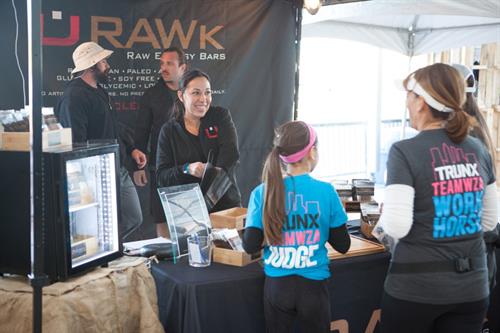 Her Experience at MDC Rocked!
As the head of an energy bar company, and with fitness certifications from both the American Council on Exercise and the Aerobics and Fitness Association of America, characterizing Isabel Gallego as energetic is an understatement.
"When you find something you love, jump in and share your gift," she said.
"Running a business is new to me. I had never taken a business course," said Gallego, who credits the College with giving her the tools and confidence to persevere in a challenging new profession.
"MDC's Honors College was an amazing place to study," she said. "You had a lot of hands-on work, and the professors had time for you. They cared and were invested in your success. It created the background for what I am doing now."
A Different Diet
The founder of U-RAWk, which makes energy bars from raw ingredients that are free from additives, Gallego found inspiration for her enterprise from an unlikely source: her dogs.
"I had been on a raw and paleo diet and had seen the changes it had made in my body and overall health," Gallego said. "When my dogs were diagnosed with heart failure and each given six months to live, I decided to begin feeding them only raw food. They lived for a year, more than any vet said they would. The vet attributed this to their diet."
That success with their diet led Gallego to create her own health food bars.
Returning the Favor
Giving back to others is Gallego's credo, so U-RAWk donates part of its proceeds to the American Society for the Prevention of Cruelty
to Animals (ASPCA). Gallego's company also supports the Miami International Film Festival, Habitat for Humanity, Big Hearts for Big Dogs Rescue and the Humane Legislative Fund.
While doing all this, Gallego also makes time to set an example for others.
"When I go to events and see young girls selling homemade food products, I tell them that I didn't have a fancy tent or printed labels when I started. I was just like you. If I can do it, so can you."
More Features Articles