---
Making Their Mark
Fulfilling a Compact to Serve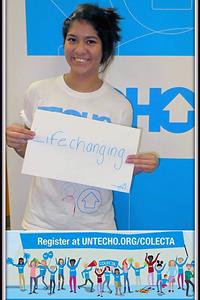 MDC graduate Nicole Roman recently was named a Campus Compact 2014 Newman Civic Fellow.
For her extraordinary community service and leadership, MDC graduate Nicole Roman recently was named a Campus Compact 2014 Newman Civic Fellow. The national honor is awarded to college students who have shown great motivation and accomplishment in helping communities face challenges and implement effective solutions.
Completing an MDC associate degree with an academic pathway in journalism in May, Roman said, "The award is about the work, not me. It's about striving for a cause, and it shows the fundamental human element of why coming together for a common goal is so important and can be so powerful."
Despite Roman's demure attitude to the prestigious award, the fact this MDC grad attained it is impressive.
One of a Kind
"This is a big deal," said Josh Young, director of the Institute for Civic Engagement and Democracy at MDC. "There are 1,100 colleges in Campus Compact, and each college president selects a single student to nominate for the fellowship – someone who really demonstrates the values of the award and who has an incredible commitment to service. MDC President Dr. Eduardo Padrón chose Nicole."
In addition to logging mindboggling hours as a volunteer for the Girl Scouts and other community organizations, Roman has been instrumental in crafting and managing innovative and highly successful fundraising and outreach campaigns for TECHO, a nonprofit dedicated to providing housing and other assistance to those in need across Latin America.
Legions at Work
"For one campaign, we needed to recruit, train and deploy more than 1,000 volunteers. It was a big challenge logistically, but also because we had to change the campaign model – which was developed for Latin American locations – to suit Miami," Roman explained. The campaigns have raised more than $250,000 for TECHO.
"Nicole's desire to serve and build a better world are the core of who she is. She is a role model for all of us," said Young.
Now continuing her studies in communications and business at the University of Miami, Roman keeps the local and global outlooks in fine equilibrium. "I won't ever know the people who will live in the houses built with the funds we raise, but I know that each house will help someone. We are a community of seven billion people; to feel that you are a part of that cycle of life is what matters."
More Making Their Mark Articles