---
Powerful Partnerships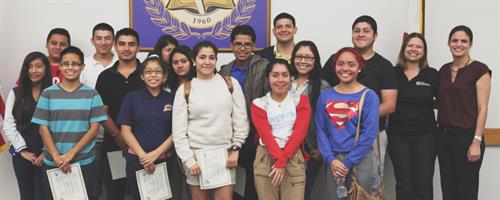 With TACT, Their Future's Brighter
At Miami Dade College, opportunity abounds and is provided in endless ways to everyone willing to seize it. Such is the case with MDC's Teen Advancement Career Training (TACT) pilot program. The brainchild of Susana Vela, the Homestead Campus director of MDC's School of Continuing Education, TACT was created to give Homestead farmworker youth, ages 15 to 20, the confidence and employability skills they need for a competitive workplace.
"MDC's goal is to steer these kids toward a work environment that is not in the fields," Vela said. "TACT gives them the tools and knowledge to get a job that is safe and has possibilities for growth."
Concerted Effort
A gamut of willing partners are behind TACT's success. The Miami Foundation was quick to recognize TACT's value and fund it; the Homestead and Florida City Chamber of Commerce and members, such as Keyes Realty and the Coalition of Florida Farmworker
Organizations, welcomed TACT students into their offices for career-building internships.
The students' performance is impressive, these partners report. Eager for the chance to go beyond their parents' dreams, the youths are quick to absorb all they can. Students receive training in everything from computer software programs and business etiquette to social confidence-building and CPR approved by the American Heart Association. They leave the program with office skills, a résumé in hand and meaningful work experience.
Fast, Appreciative Learners
"These kids are very fast learners, very sharp," said Melissa Ramírez, TACT program coordinator. "They know this is their chance, and they're appreciative of every opportunity they're given."
TACT is at a critical junction, seeking new partners and funding in order to continue to help eager farmworker youth forge a safer future. For more information, please contact Vela at svela@mdc.edu.
— NG
More Powerful Partnerships Articles