---
Academics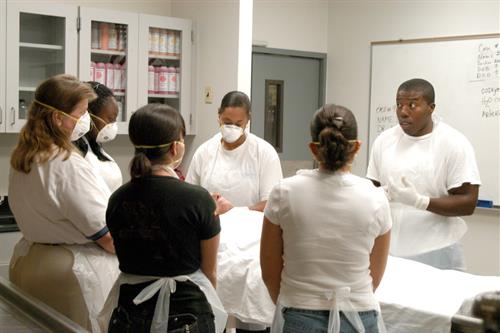 Ready to Help Families Cope
As the famous saying goes, nothing in life is certain but death and taxes. While neither is a particularly beloved topic of conversation, society's need for skilled funeral service professionals is undeniable and ever-growing. With its new Funeral Director Certificate Program, Miami Dade College is not only addressing this need but also creating opportunity for anyone seeking a successful career.
"Our culture is fascinated with death, but we aren't in touch with our own mortality," said Joseph Finocchiaro, program coordinator of Miami Dade College's Funeral Services Education (FSE) program. "A trained, qualified professional can help not only with the logistics but can also be a support and help bring understanding to the process."
An Area of Growing Opportunity
"Everybody is looking for help," said David Lowery, past president of the Florida Funeral Directors Association and vice president of Panciera Family Funeral Care in Hollywood, Fla. "The National Funeral Directors Association predicts a serious employment shortage within 10 years. Graduates from this program are expected to gain employment as soon as they complete their degree. The faculty and staff are truly dedicated to offer this opportunity to South Florida residents."
Based at MDC's North Campus, the Funeral Director Certificate Program is intended for individuals who have obtained a prior degree from an accredited institution and intend to transition into a new career path. Students receive all the training needed to become a dedicated and successful funeral director, including arranging the details and handling the logistics of funerals by assisting families in establishing the location, date and time of wakes, memorial services and burials. Successful completion of the Funeral Director Certificate Program facilitates student eligibility for the Florida Funeral Directors State Licensing Exam.
Collaborative Learning
In addition to this new certificate, MDC's FSE program also offers an Associate in Science degree, which allows graduates to manage the full funeral process, including embalming.
"The programs are distinct, but students often work side by side," said Finocchiaro. "The Funeral Director Certificate credential is meant to efficiently help prepare funeral directors, who will meet with families, do the paperwork and arrange funerals."
One thing that sets MDC's program apart from others is that MDC maintains full-service facilities on campus and can offer students an experience that is exactly like what they will face on the job.
"Very few other schools have that capacity," Finocchiaro said.
More Academics Articles