---
Academics
Changing the Odds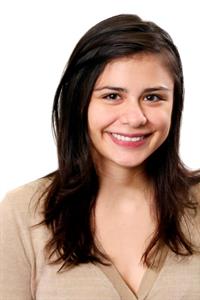 Gabriela Hernández
According to the American Institute of Physics, in 2010, only about 20 percent of students with bachelor's degrees or doctorates in physics were women. Bucking this trend, Miami Dade College student Gabriela Hernández is not only studying physics but also already inventing useful robots and inspiring other women to pursue the sciences as she has.
Although Hernández always found physics interesting, she originally wanted to study biotechnology at MDC.
A Man's World
"I often doubted my ability to succeed in physics because of its complicated nature and because it's an area dominated by men," she said.
Despite her early hesitation, she committed herself to physics and is now thriving.
"MDC helped me put aside my fears and work toward what I want," she said. "Here I'm encouraged and recognized for being a woman in physics. This acknowledgment helped build my academic confidence, and now I'm striving to excel in this field."
Following a professor's recommendation, Hernández helped lead her peers in a Summer Bridge Program for first-year science students in which her group was asked to create a design for an underwater robot. 
"My classmates and I agreed this robot should have a great purpose," she said. "By using basic physics, we realized making a device that could separate oil and water wouldn't be complicated."
With that in mind, they constructed a prototype to help clean oil spills.
A New Attitude
Using her talent to motivate others, Hernández has worked as a peer mentor at MDC. Her goal is to make science more appealing to students, so that they can approach the subject with confidence and a positive attitude.
"Nothing brings a teacher more joy than changing somebody's perspective and seeing them succeed," Hernández said.
Looking to the future, Hernández wants to transform that percentage of physics bachelor's and doctorate holders who are women.
"After getting a bachelor's in physics, I want to go to grad school and earn a Ph.D.," she said. "Although I'm still undecided on what career I would like to pursue, I know nothing makes me happier than math and science!"
— NN
More Academics Articles