---
Features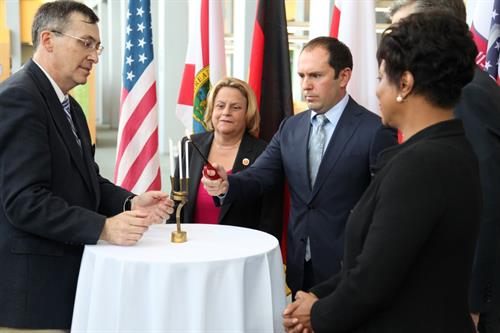 A Day of Remembrance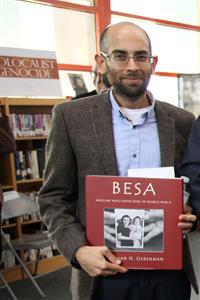 The program at Homestead Campus featured a talk on Muslim rescuers in the Holocaust by Dr. Iqbal Akhtar.
The Holocaust and Genocide Education Program (HGEP) at MDC's Homestead Campus once again hosted a Kristallnacht event on Nov. 6. The ceremony of remembrance this year featured special guests including U.S. Congresswoman Ileana Ros-Lehtinen, Consul General of Germany in Miami Jürgen Borsch and Consul General of the Republic of Turkey Özgür Kivanc Altan.
Kristallnacht, or Night of Broken Glass, was a series of attacks against Jews throughout Nazi Germany and part of Austria in 1938. The attacks left the streets covered with broken glass from the windows of Jewish-owned stores and buildings, which led to the name of this devastating event. Approximately 91 Jews were killed in the attacks, and another 30,000 were arrested and sent to concentration camps.
The program featured a talk focusing on Muslim rescuers in the Holocaust, which was given by Dr. Iqbal Akhtar, professor of religious studies at Florida International University.
"Dr. Akhtar's presentation is a reminder that when faced by evil there are those in the world who will not turn their eyes away and be bystanders. In the Holocaust, there were more than 22,000 who assisted Jews in escaping and some of those who helped were Muslims," said Randall Kaufman, chair of the Arts and Sciences Department at Homestead Campus. "We hope that by attending the program our students will have another perspective when watching the nightly news coming from Africa and the Middle East."
The first Kristallnacht remembrance event at MDC was established by the HGEP in 2008. The program's mission is not only to increase awareness of the Holocaust but also to bring awareness to students and the community about genocide within a framework of global citizenship. More than 13,000 people have participated in the program's various activities to date.
— BK
More Features Articles