---
Features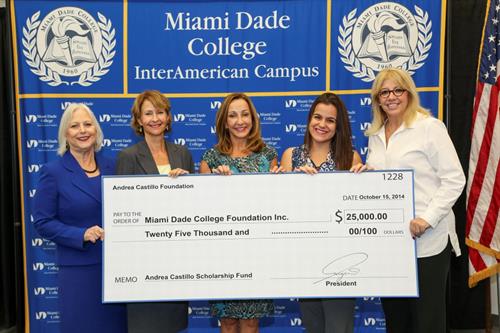 The Gift of an MDC Degree
Susie Castillo had lost her daughter, and Tereza Quintero had lost her mother.
When the two met at an MDC scholarship endowment ceremony in October, there was an instant connection.
Castillo's daughter, Andrea, died in a car accident on Oct. 19, 2012, one day after her 21st birthday. Out of Castillo's immense grief came a determination to help others fulfill the dream Andrea didn't get to finish. 
Andrea had graduated from MDC with a degree in Early Childhood Education. With money raised by the community, Castillo set up the Andrea Castillo Foundation and put in specific criteria for how scholarships would be awarded.
Students had to come from a Miami-Dade County public high school, have a 3.0 GPA or better, be working on an MDC bachelor's degree in education, have completed volunteer work in education and write an essay showing their love of teaching.
All those criteria mirrored Andrea's life.
A Lasting Tribute
"I wanted the scholarship to continue Andrea's legacy and the work she wanted to do," Castillo said. "I'm so grateful to the community for raising the money and making this happen."
Quintero, who will complete the bachelor's degree at Miami Dade College's North Campus this summer, is the embodiment of those requisites. She currently is finishing a bachelor's in early childhood education, and she recently completed a demanding, career-building internship at Hialeah Gardens Elementary.
"Teaching young children is where my passion is," said Quintero, a graduate of Hialeah High. "It's all I've ever done."
An Instant Connection
When Quintero met Castillo, she instantly thought of her mother, who passed away from lung cancer almost nine years ago.
"She even had my mom's mannerisms," said Quintero. "She said I reminded her of her daughter. There were tears in my eyes, and hers, too."
There was something otherworldly about their meeting, Castillo agreed.
"God works in mysterious ways in the manner that we got matched up like this," Castillo said. "I'm just happy that Andrea's legacy gets to live on through students such as Tereza."
— WV
More Features Articles