---
Making Their Mark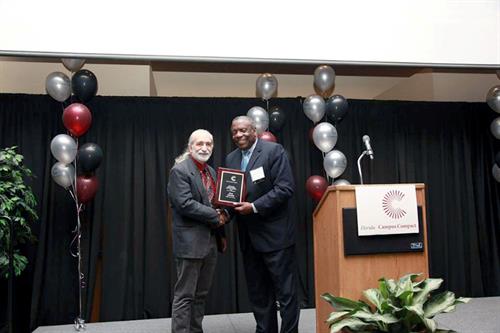 Lessons Extend Beyond the Classroom
When students emerge from MDC, they leave with more than just a diploma. As part of the College's mission, they also are instilled with a desire to use their newfound knowledge to better the world. At the heart of this effort are MDC's faculty, who help students develop citizenship values and skills through public and community service efforts and other classroom endeavors.
Florida Campus Compact (FL/CC) recently recognized one MDC professor for his outstanding efforts in this area. Professor José Guntin, who teaches psychology at Kendall Campus, was selected for the 2014 Engaged Scholarship Faculty Award. Since he joined MDC full-time in 2010, more than 1,200 of his students have participated in service learning, contributing nearly 17,300 hours to the community.
A New Outlook on Education
"I truly believe this is the future of education," Guntin said of the importance of service learning as part of higher education. "Our culture is very individualistic – very 'me, me, me' – so my goal is to counteract that. Service learning also breaks down the wall of the classroom and allows students the opportunity to practice their skills and see learned concepts at work in the real world."
Guntin's students have participated in community projects related to mangrove reclamation and other sustainability issues, as well as homelessness and helping residents of New Orleans who are still struggling as a result of Hurricane Katrina. He's especially pleased with their suicide prevention efforts.
Experience on the Frontline
With the financial help of a grant from the Substance Abuse and Mental Health Services Administration, Guntin's students at MDC have been able to attend two-day training on suicide prevention to volunteer at Switchboard Miami, a nonprofit that provides telephone counseling, crisis intervention, suicide prevention and information and referral services.
Members of the student H.O.P.E. Club also hosted a suicide prevention awareness event.
"Before I came to MDC, I worked as a therapist, so when people wouldn't show up to class, I would wonder, 'What is going on with this person? How are they doing? What hardships are they facing?'" Guntin said. "I saw that students often lack awareness of resources available, so through service learning, I encouraged students to become civically engaged. I'm very proud of the work that they're doing."
— AMS
More Making Their Mark Articles