---
MDC News Bytes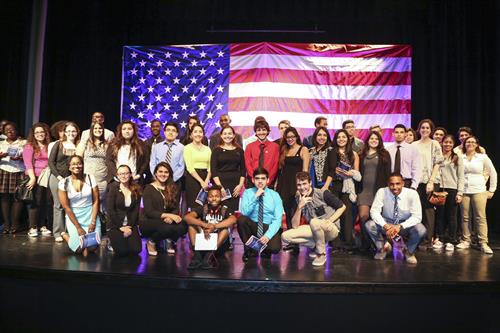 Fulfilling the American Dream
As it does each year, Miami Dade College welcomed the incoming class of American Dream Scholars during a festive convocation ceremony in the fall. This year's cohort includes 2,347 top achievers.
The scholarship is awarded to Miami-Dade County high school graduates who have a 3.0 GPA or better and meet other academic testing requirements. Each of the scholars receives a two-year, -60-credit, tuition-free scholarship to enable them to complete either an Associate in Arts or an Associate in Science degree in their chosen -career-related pathway programs.
To form a close-knit community, the convocation introduces scholars to each other at the same time that they meet Miami Dade College faculty, staff, mentors and advisors. This empowers them to become better acquainted with the many resources and opportunities available at MDC so that they will have continued success as they embark on the first steps in their journey to completing college degrees.
Since its inception in 2011, MDC's American Dream Scholarship program has awarded an impressive 10,405 scholarships. To learn more about the program and requirements, see www.mdc.edu/americandream.
More MDC News Bytes Articles