---
Academics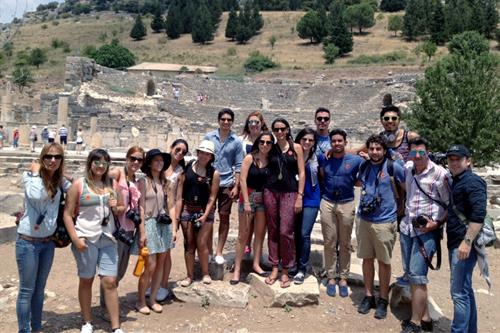 A World of Lessons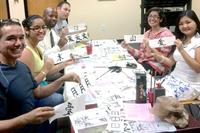 MDC students learn about Chinese calligraphy at the College's Confucius Institute.
"Travel is fatal to prejudice, bigotry and narrow-mindedness. … Broad, wholesome, charitable views of men and things cannot be acquired by vegetating in one little corner of the Earth all one's lifetime."
– Mark Twain
Mark Twain may have made the best case ever for study abroad. Travel is an antidote to ignorance and provides life lessons that add new dimensions to learning acquired in the classroom. As an institution that values global awareness, diversity and understanding across cultures, MDC offers numerous study abroad opportunities that are taking its students all over the world for learning experiences that will last a lifetime.
MDC students have the opportunity to study abroad through College-sponsored programs in Costa Rica and France. They also can study virtually anywhere else in the world, since MDC is a member of the College Consortium for International Studies (CCIS). In addition, in recent years, the number of faculty-led study abroad programs has grown each term, reaching unprecedented enrollment numbers.
This spring, applications have poured in for nearly a dozen of these programs, which last from nine days to four weeks each. Because faculty are able to tailor the trips to curriculum, they select destinations that most effectively meet their students' learning goals. "From an academic perspective, China has one of the oldest civilizations in human history, which gives our students a rich pool of information and visuals to draw from," said MDC Professor Eric Cornish, who is leading a graphic design course to China with support from The Confucius Institute at MDC. "From a design perspective, Chinese calligraphy is not just a means of communication but one of the purest forms of art and symbolism that our students will have the opportunity to experience firsthand."
The benefits of study abroad are multifaceted. "Study abroad is not only a great opportunity to see the world, but also an opportunity for students to cultivate friendships with people from different walks of life," said MDC Study Abroad Manager Joanne Michaud. "These programs provide valuable and unforgettable experiences."
— MR
More Academics Articles