---
Making Their Mark
One Professor Changed the Course of His Life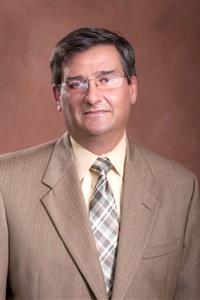 Raúl Loredo
Raúl R. Loredo, a professional liability defense attorney for the McCumber Daniels law firm, makes it clear he would not be where he is today had it not been for MDC.
Loredo, 54, took a circuitous route to higher education. The Titusville, Florida, native dropped out of high school to get his GED and enter the military. He served in the Navy for six years, achieving the rank of Petty Officer First Class in the submarine forces.
He enrolled at Miami Dade College at age 31, and said he would never have finished had it not been for some inspiring professors, most notably the late Suzanne Rucker, who taught in the College's psychology department.
"She took me under her wing, showing me the value of an education," said Loredo, who is based in Tampa.
Loredo went on to earn a master's degree in psychology as well as a doctorate in human resources and business management.
It wasn't until age 41 that he earned a law degree.
"If it wasn't for Suzanne, I probably would never have finished school; I would have walked away," said Loredo, whose parents were born in Cuba. "She motivated me and encouraged me."
— WV
More Making Their Mark Articles