---
Features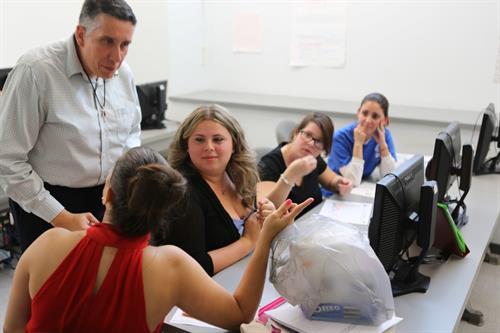 The Benefits of Repetition
Dr. Raul Escarpio, associate professor in the School of Education, recently was selected to present his research in San Diego, California, at the 2015 convention of the Council for Exceptional Children (CEC), an international -advocacy organization that seeks to improve educational outcomes for students with disabilities or special talents.
Escarpio's paper, "Comparison of Repeated/Non-Repeated Readings on Reading Performances of Students With Emotional and/or -Behavioral Disorders," looks at whether repetitive reading of texts improves comprehension in students whose disability can make focusing difficult. His method eliminated potential variables, and the findings indicated that not only was comprehension and retention improved, but also the fluency of the reading was better and the students made fewer errors.
"If you do something repetitively, you will generally get better at it, of course, but there are two things that are important about this study," Escarpio said. "First, it was done at a separate day school for kids who are severely impaired emotionally or behaviorally. Second, it is very important to ensure that methods work and to quantify results so other researchers have a reliable foundation to build on for future studies."
A teacher in the Miami-Dade County Public School system for 12 years prior to joining the MDC faculty in 2011, Escarpio specializes in Exceptional Student Education (ESE) and early childhood ESE.
"My job is to prepare special education teachers," Escarpio said. "I go into the classroom where they are interning, evaluate them and give them feedback. That means I must stay up to date on the research and best practices, so I am grateful to MDC's School of Education for sending me to these conferences so I can do that."
More Features Articles