---
MDC News Bytes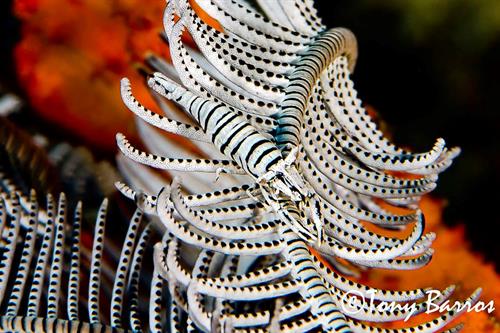 20,000 Leagues Under the Sea
"Mimicry is one of the wonders of evolution as well as coevolution," said MDC Professor Tony Barros, who won the First Place Macro Award in the  2015 International Underwater Photo Contest sponsored by the Rosenstiel School of Marine & Atmospheric Science.
Barros' winning image contains multiple lessons for his students at MDC and for everyone else who contemplates his artwork.
"To avoid predation, this shrimp perfectly mimics the colors and even the texture of its host animal, which is a Crinoid," Barros explained. "So you have an animal hiding in the arms of another animal."
Vividly describing these unique sea creatures, Barros added, "Some of these Crinoids are not so nice. They can jump on you and start stinging you with their siliceous spicules that are hands-down nasty!"
The professor's photo also offers a textbook example of commensalism, which is an association between two organisms in which one benefits and the other derives neither benefit nor harm.
"Even with my art endeavors, I enjoy teaching everyone about the wonders of science and our oceans," Barros said.
To see more of Barros' award-winning photos, go to http://tbarros.zenfolio.com.
— BK
More MDC News Bytes Articles