---
Academics
New Views on Hues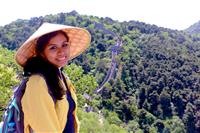 MDC design students took classes in Mandarin Chinese, in addition to studying graphic design history and typography during their study abroad experience.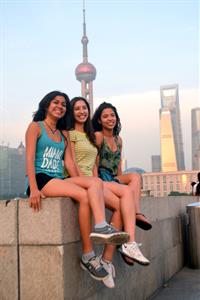 Between classes, MDC students enjoyed sightseeing in China.
A fruitful partnership between MDC, the Confucius Institute and China's Jiangsu Normal University in Xuzhou made an exciting study-abroad experience possible for 14 MDC graphic design students this summer. During the intensive four-week program, they took classes in Mandarin Chinese and expanded their artistic abilities by studying the history of graphic design, typography, color theory, symbolism, advertising and calligraphy.
The program included guest lectures, arts and crafts workshops, extensive field work and site visits to Confucius' birthplace of Qufu, the Chinese Cultural Center at the Confucius Institute Headquarters (Hanban) in Beijing and art classes in local K-12 schools. 
The MDC students were impressed by a powerful penchant for rich, intense hues in advertising and product design in China.
"Red for the Chinese is a sacred color, and it's often used by brides," said MDC Professor Eric Cornish, who organized the tour in tandem with the Confucius Institute. "While white is the traditional color for brides in the West, in China it conjures up mourning."
In mastering these concepts, the Miami Dade College students learned important lessons about working across cultures.
"The experience increased their aesthetic appreciation while helping them develop broader global, cultural and historical perspectives," said Cornish, who teaches graphic design and computer animation at MDC's School of Entertainment & Design Technology (SEDT).
More Academics Articles