---
Powerful Partnerships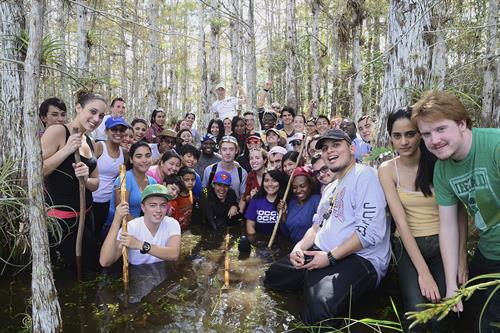 Ashoka Turns to MDC for Changemakers
Miami Dade College received official recognition for its expertise in advancing socially innovative education when it became the first and only public institution of higher education in the Southeastern United States to be designated as an Ashoka U Changemaker Campus. The prestigious university network includes Brown, Cornell, Duke, Fordham, George Mason, Johns Hopkins, Middlebury and Tulane.
Building on its vision for a world in which everyone is an agent for positive change, Ashoka U takes an institutional approach to transform the education of millions of students, including the 165,000 at Miami Dade College.
As an Ashoka U Changemaker Campus, MDC will advance educational pathways that develop interdisciplinary, entrepreneurial and solutions-oriented skills for students. MDC's collegewide initiative will infuse social innovation into the fabric of the College and create a defined roadmap for all students to become changemakers.
"The educational goals of students are changing," said Marina Kim, co-founder and executive director of Ashoka U. "These student demands add a new dimension to the call for innovation in higher education: How can colleges and universities foster the knowledge, skills and dispositions that equip graduates to address increasingly complex global challenges? Every student should get the chance to acquire the skills necessary to make a difference in the world."
Launched in 2008, Ashoka U offers the Changemaker Campus designation to leading institutions that share the vision for higher education to become the next global driver of social change by transforming the education experience into a world-changing experience. To learn more about Ashoka U, visit ashoka.org.
More Powerful Partnerships Articles